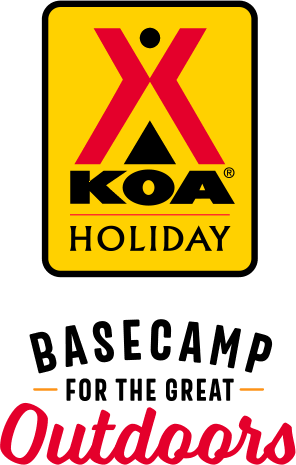 KOA Holiday Campgrounds
Whether you're exploring the local area or hanging out at the campground, KOA Holidays are an ideal place to relax and play. There's plenty to do, with amenities and services to make your stay memorable. Plus, you'll enjoy the outdoor experience with upgraded RV Sites with KOA Patio® and Deluxe Cabins with full baths for camping in comfort. Bring your family, bring your friends, or bring the whole group – there's plenty of ways to stay and explore.
KOA Holidays Feature:
RV Sites with a KOA Patio®
Deluxe Cabins with full baths
Premium Tent Sites
Group meeting facilities
Directions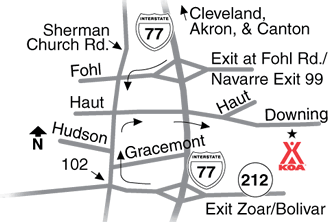 Southbound I-77 to Exit 99 - West at Fohl Road, left at Sherman Church Road, 3 miles to Haut, left for 1 mile.
Northbound I-77 to Exit 93 - left to first stop, right 3 miles (parallel to I-77) to Haut, right 1 mile.
Get Google Directions
Sep 30, 2020
Everything was well kept and very clean! We very much enjoyed our stay! :)
CAMPGROUND RESPONSE / COMMENTS:
Thank you for your comments on the cleanliness of the campground. So glad you enjoyed your stay. Come back again!
Sep 13, 2020
The people were very nice the place is very clean and yes I would come back again hopefully one more time before the year's out �
Sep 09, 2020
We loved the tent area! Private, primitive and clean. Bathrooms were nearby and very clean as well. Outdoor sinks and eater available too. Stables, miniature golf, pool and fishing pond were activities we participated in. There is also a game room we didn't visit but would have been nice if cloudy or rain. Great location to cute Amish towns.
Aug 27, 2020
We had an amazing time! The put put is great, the pool was refreshing, the horses are beautiful and we'll taken care of. The entire place was so clean!
CAMPGROUND RESPONSE / COMMENTS:
Glad you had an amazing time at the Canton/East Sparta OH KOA and enjoyed the putt putt, the pool, the horses, and the cleanliness of the entire place! Please come again!
Aug 14, 2020
The only issue was a boy with the broken leg driving a golf cart cussing and swearing.
Aug 10, 2020
Kids loved the camping site, swimming pool, miniature golf, and the horseback riding the best!
CAMPGROUND RESPONSE / COMMENTS:
Happy to hear the kids loved the camping site, the swimming pool, mini-golf and horseback riding! Come back again!
Jul 30, 2020
Stayed here last night July 26th 2020. We were dissapointed! We stayed in tent site BF5. The site we reserved ahead of time ended up being right on a gravel road that was not shown on any campsite map. Our tent was 6 feet from the gravel road. We got zero sleep and listenned to at least 4 cars an hour all night long going down that gravel road. When we booked the reservation, we called to ask abou
Jun 17, 2020
We loved the friendly staff & all of the activities available! We were a little off put by how close the campsites were to one another but we hadn't been to a KOA before this one so we didn't know what to expect. The staff at the store building were super sweet & helpful & riding horses was so much fun! We definitely know what to expect with KOA's from now on & will continue to stay at them.
Jun 17, 2020
Very clean was very happy with out site ,staff was very helpful and lots of activities.
Jun 13, 2020
This was a spur of the moment camping trip and we really enjoyed ourselves. The staff was very pleasant and helpful. The site was clean and well kept up. The bathrooms were spotless. We were tent camping and they placed us a couple sites away from the other tent campers so we all enjoyed our privacy. The main reason we picked this KOA was horseback riding and It was great. Boys enjoyed pool too
CAMPGROUND RESPONSE / COMMENTS:
Glad you enjoyed your spur of the moment camping trip! That you found the staff pleasant and helpful, the site was clean, and bathrooms spotless. Hope to see you again soon!
Oct 01, 2019
Great site! Brand new construction - very well thought out, except the parking spot is very small. Even with a small car we'd have had to park on the campground road if we were to have a fire where the fire ring is. No big deal. Bathrooms were well lit and clean throughout the whole week. The newly constructed covered picnic table with the light, water, and electric was fantastic. We love OH!
Aug 05, 2019
The campsite and bathrooms were well kept and clean. Staff was friendly and helpful. The pool was amazing. Thank you for a relaxing weekend.
CAMPGROUND RESPONSE / COMMENTS:
Glad you enjoyed your stay with us and that the staff was friendly and helpful. Nice to hear you had a relaxing weekend and the pool was amazing!
Jul 31, 2019
We had a great time staying here Friday to Sunday, bathrooms and showers were very clean and the doggie park is great to have. Will definitely be returning
CAMPGROUND RESPONSE / COMMENTS:
Glad you enjoyed your weekend stay at the Canton/East Sparta OH KOA, the cleanliness, and the doggie park. Look forward to your return visit!
Jul 28, 2019
I got there much later than planned and the owner was kind enough to leave all the info I needed for my stay somewhere accessible. The gentleman working security was just that, a complete gentleman. I am a woman traveling on my own and I could not have felt safer. The bathrooms and showers were so clean. Amazing value and great people. Thank you so much!
CAMPGROUND RESPONSE / COMMENTS:
Glad we were able to make your stay so pleasant. Thanks for choosing the Canton/East Sparta OH KOA!
Jul 25, 2019
Absolutely so much fun! Helpful staff, nice tent site. Even pouring rain and a lightning strike that knocked out the power for a bit could not dampen our enthusiasm. Great time!
Jul 19, 2019
The staff working behind the counter at check in was so nice to us!
Jul 16, 2019
There was so much arguing and cussing going on parent's not watching their kid's. Babies getting out of tents walking up and down the rd. Adults cussing at my kid's walking pass and in the pool. I use to love bringing my family here been coming for year's but this last visut was very uncomfortable
Jul 13, 2019
Great place..pool and game room and camp store are great..staff is top notch..We like to camp in the primitive section and spend a day or two in the a tv trails a mile up the road(or ten miles around the holler if the flood closes the road down)..always a great weekend at Bear Creek
Jul 03, 2019
Facilities were clean, campsite was clean, only problem was that the road seems to close often due to rain which was an inconvenience getting to the ATV riding area, but great trip otherwise.
Jun 02, 2019
Very friendly people, nice amenities.
May 30, 2019
Clean campsite very clean nice bathrooms quiet at night beautiful view of the stars.
May 15, 2019
The staff was very friendly and knew every answer to my questions. We had the only tent so it was nice picking any spot we wanted. We stayed last year in a cabin. Bear creek is a beautiful place to stay and I'm happy they have extra activities on the weekends to keep people busy. We can't wait to come back in a few weeks!
Sep 20, 2018
You should probably call this an RV park and discourage people from staying in tents. The tent sites are super small and in an open field with no shade and no privacy. The facilities near the tent area are old and not clean so you'll have to walk to the facilities near the RV's. The playground is neglected, old, falling apart and dangerous for small children. Don't go here with small children.
Sep 05, 2018
Had an awesome time
CAMPGROUND RESPONSE / COMMENTS:
Glad you an awesome time at the Canton/East Sparta OH KOA. Come back again!
Aug 28, 2018
This was a very pleasant stay. Though a couple areas for improvement, maintenance on the mini golf course and rules enforcement. There was a group on our second night being obnoxiously loud and using the pool all night long. It would've been nice to have someone on site policing this type of issue. Otherwise we had a great time. We enjoyed all of the amenities offered.
Aug 08, 2018
Great location and well kept.
CAMPGROUND RESPONSE / COMMENTS:
Thank you for your comments. Hope to see you in the future.
Aug 08, 2018
Wonderful and helpful staff!
CAMPGROUND RESPONSE / COMMENTS:
Thank you for your comments regarding your stay and the staff at the Canton/East Sparta, OH KOA.
Aug 08, 2018
My first time staying at any KOA. Real nice facility, well kept. Clean bathrooms and super friendly staff. I stayed on a campsite on the ball field, the camp site was just right for a big tent. Only complaint and why 4 stars, was the pool staff blasting Ozzy at 8am and singing along to it. Would have liked to slept a little longer and woke up on my own terms.
CAMPGROUND RESPONSE / COMMENTS:
Glad you enjoyed your stay. We have spoken to our staff about playing their music and waking up folks. Believe me, it won't happen again!
Jul 22, 2018
In general, it was good. We weren't able to enjoy any activities except the pool. Our site was on the "ball field". I recommend that staff update maps/relabel campsites in that area. We were given a campsite that didn't appear to exist. Rather than leave the office and investigate, we were told to just pick an empty site. Also, as a "primitive" site we were not told where to find water
Jul 17, 2018
I had already written a review. Problems: WiFi and people smoking at the pool.
Jul 16, 2018
The staff were very helpful, especially when my tent leaked like a sieve the first hour I arrived. Friendly, focused, relaxed... I've only been in 2 other KOA's before, and I don't remember exactly what they were like. The office/store was at East Sparta was nice to have. The only reason I wouldn't rate it higher is the lack of hiking places.
CAMPGROUND RESPONSE / COMMENTS:
I am glad we were able to offer you a nice kamper kabin when you found your tent leaked. We have trails all around the lake and are minutes away from the Towpath Trails which run from Bolivar to Cleveland Ohio. We have maps in the KOA Store showing you the trails.
Jul 16, 2018
The bathhouse was immaculate!!! Very friendly owners and they helped accommodate us and our group. Great JOB!
CAMPGROUND RESPONSE / COMMENTS:
Your comments on the immaculate bathhouse, friendly owners who accommodated you and your group were greatly appreciated. Hope to see you in the near future!
Jul 07, 2018
Friendly and helpful staff
Jul 03, 2018
Had a wonderful time as always. They have a lot of family activities. I have been coming for over five years now. Very friendly staff.
Jun 26, 2018
We had our girl scout camp here. It was very pleasant and enjoyable.
Jun 20, 2018
The kids had a lot of fun
CAMPGROUND RESPONSE / COMMENTS:
Glad the kids had so much fun at the Canton/East Sparta OH KOA!
Jun 20, 2018
Everything was very clean and well taken care off, kind staff and a lot of facilities!
CAMPGROUND RESPONSE / COMMENTS:
Appreciate your comments on the cleanliness, kind staff and the facility. Hope to see you again in the future!
Jun 05, 2018
Exceeded expectations
Oct 28, 2020
It was great they had horses you can ride and a big fishing area
- Dustin Collins on Google
Oct 15, 2020
First impression- beautiful! Helpful and friendly staff!
- Kristen Henry on Google
Oct 10, 2020
Beautiful!!!
- Theresa Paul on Google