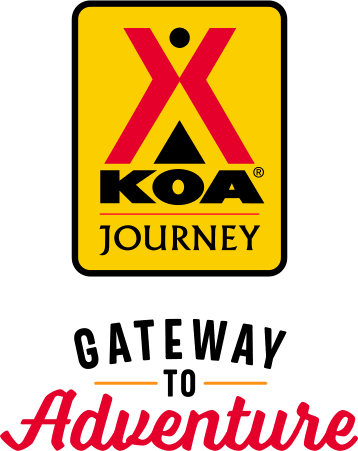 KOA Journey Campgrounds
KOA Journey campgrounds are the perfect oases after a day on the road. Whether it's along the way or a quick getaway, they've got you covered. Located near the highways and byways of North America with long Pull-thru RV Sites, they deliver convenience to the traveling camper. Pull in, ease back and take a load off.
KOA Journeys Feature:
Pull-through RV Sites with 50-amp service
Premium Tent Sites
Well lit after hours check-in service
Directions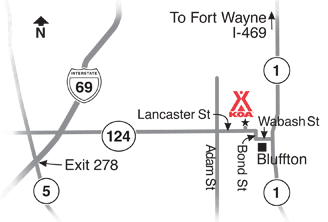 From I-69 exit 278 go north on St. Rd. 5 to Red Flashing signal small cemetery on east side of intersection. Turn East on St. Rd. 124 east. Continue east approximately 4 miles to first 4-way stop @ St. Rd.3 and St. Rd. 124 east continue east approximately 9 miles on St. Rd. 124 east to second 4-way stop @ Adams Street (to south) St. Rd. 124 (to north) large warehouse on north side of intersection. Continue east approximately ¼ mile to Campground entrance.
From I-469 exit 6 go south on St. Rd. 1 /also called Bluffton Rd. approximately 15 miles to city of Bluffton. Continue south thru first stop light (Walmart/Lowes) intersection. Continue South thru second stop light (Walgreens). Continue south to third stop light (Arby's/Sunoco station) turn west onto St. Rd. 124/116 approximately 1 mile. Cross R/R tracks continue west to Tee-intersection. Continue west on St. Rd. 124 over bridge to 4-way stop @ county Rd. 100E/St. Rd. 124/100N. Continue south on 100E/St. Rd. 124 approximately 1 mile to 4-way stop 2@ Lancaster St. /St. Rd. 124. Continue east on Lancaster St. approximately ¼ mile to Campground entrance.
From the east on St. Rd 124 west continue west to city of Bluffton @ first stop @ light Main St./St. Rd.124/St. Rd. continue south over bridge in (outside lane) to second stop light @ Main St./Wabash St. (Hardees on east side of intersection). Continue west on Wabash St. approximately ¼ mile cross R/R tracks to Tee intersection @ Wabash St./Bond St. Continue north on Bond St. to Tee intersection @ Lancaster St. /Bond St. Continue west on Lancaster St. approximately ½ mile to Campground entrance.
From the south on St. Rd. 1 north continue to city of Bluffton on St. Rd. 1/Main St. for 5 stop lights @ Main St/Wabash (Hardees on east side of intersection). Continue west on Wabash St. approximately ¼ mile cross R/R tracks to Tee intersection @ Wabash St./Bond St. Continue north on Bond St. to Tee intersection @ Lancaster St. /Bond St. Continue west on Lancaster St. approximately ½ mile to Campground entrance.
Get Google Directions
Sep 29, 2021
Simple easy to come in after hours, good communication,
Sep 16, 2021
Loved it, easy check in and out. Friendly staff! Clean grounds!
Sep 07, 2021
KOA owner(w/ family) w/ golf kart drove around campsite many time until he stop our site and for over stay fee $10/2 hrs. Yes it our fault didn't look at the clock's but he should come warning OR check if we need anything before that and check politely. I don't mind to $$ but the Owner KOA doesn't know how to work in campgrounds please keep in mind. It will make the campgrounds LOW RATE!
Sep 07, 2021
First time staying at the Bluffton KOA. A man, women, 4-5 teen boys, and 3 small children at T2 (only 6 people are allowed at tent sites) AND a dog. The dog was tied to a tree, barking, growling. I called the office at 2:30pm and the man said he would take care of it! NOTHING was done. The family was loud all night long, breaking items (including vandalizing the bathroom) &puking in common areas.
Aug 23, 2021
My kids and I throughly enjoyed our stay at Bluffton KOA. The pool was the best part. The friendly staff and clean campground were also very nice.
Aug 06, 2021
Weekend campers wasrude and threatening to kick my kids off of playground also going speed limit and yelled at to slow down by same man made first day of our stay more uncomfortable. Also we read that the pool was heated. It was very cold that our little ones were unable to enjoy and our older kids weren't in long and that's the reason we chose koa. Someone was in our tent spot at 930pm
Aug 04, 2021
Very family irrentaited, No place to fish though.. Ugh
Aug 03, 2021
It was awesome and very enjoyable. Will come back for sure.
Aug 02, 2021
Great place for our children's church camp out. Staff is very friendly and very helpful.
Jul 26, 2021
I loved it here. We stayed in the tent section. Super close to the bathrooms and had everything. Showers, laundry room, camp store, pool, volleyball, basketball, playground.. it felt so good to be one with nature here with my family. And the kids loved it too. Super close to pine lake. Super close to the indiana pancake house and the portions are huge and so good.
Jun 22, 2021
Very peaceful. Kind and attentive staff.
Jun 02, 2021
We enjoyed our stay at the campground very much. The only downside was, we were next to another campsite that was very loud and vulgar. They did not respect quiet times and they often were cussing and using language that we did not feel was appropriate for our children (8 & 4 yrs old) should hear. They also continued to walk through our site to use the restrooms. Sadly, it can happen at anyway.
Jun 02, 2021
The supposed quiet time was not enforced and we didn't get much sleep due to loud noise from neighbors
May 24, 2021
Friendly staff, clean park, clean and stocked facilities. Staff monitoring during quiet hours.
Aug 26, 2020
We loved how quite it was!
Aug 22, 2020
Associates were professional and helpful. The facilities were clean and well maintained. The showers were hot and had very good water pressure.
Aug 12, 2020
Very clean, very quiet.
Aug 12, 2020
My reservation was for a tent site. I found the sites way too close to each other. And to top it off, there was only one other tent site taken and you put me right next to them. My tent would have literally been 6 feet from theirs. So I left and found another place to stay.
CAMPGROUND RESPONSE / COMMENTS:
Sorry to hear this. It sounds like this could've been an easy fix had we been made aware of the situation. We hope you'll try us again!
Aug 06, 2020
It's a nice place to stay! We were just passing through and only there for a night but would stay again.
Aug 04, 2020
It was awesome... I loved that the pool was open late late and that there was a grill. It is now my favorite camp site and its worth the 2 hour drive... Thank you
Jul 30, 2020
The site was nice! Well shaded. Park was quite at a good hour. We had a blast at the pool and playing volleyball! Front desk staff was nice as well. Thanks!
Jul 30, 2020
There isn't enough characters to tell all. Quiet hours were not enforced, we were threatened and cursed at by our neighbors 3 tents down due to loud music being played and them getting drunk and carrying on. Staff was not friendly or welcoming. No after hours number to be found when a problem occurs at midnight. Very disappointed in our first KOA stay.
CAMPGROUND RESPONSE / COMMENTS:
We are so sorry you did not enjoy your stay. Our after hours number is on our voice recording on the main line, and displayed in the foyer. We'd like to make this right if you are in the area again by offering you a free night.
Jul 20, 2020
The campground was nice clean so much for the kids to do and the worker was very nice even tried to get me to eat flavored crickets lol �� a great place and the campground kitchen was there to make food seems we forgot a grill and stuff
Jul 08, 2020
It was an amazing experience. Love the cleanliness of the facility. Very friendly staff.
Jul 07, 2020
Very nice and well kept. Pool was great! Would definitely stay here again!
Jun 22, 2020
Wonderful time best staff Experience I've ever had very clean the whole facility all around the nicest campsite I've ever been to
Jun 17, 2020
It was awesome live it there staff were great !
Jun 05, 2020
This is the 1st time my wife and I went camping and we loved it. The general store, the restrooms and the cooking areas were all very nicely taking care of. We also started looking into KOA's in different parts of the country so we can do this more often. We will definitely recommend it to our friends.
May 28, 2020
Went tent camping with the kids this past weekend. The site was very spacious, shaded, and well-equipped with fire ring, water, and electric. Restrooms were clean and convenient. The Kamp Kitchen feature was a great bonus. We used the grill for dinner on Sunday. The pool was clean and refreshing on a hot day. Complimentary Monday morning sausage and pancakes for breakfast was great! Thanks!
May 26, 2020
Well kept, courteous employees, courteous people staying there and, very clean
Aug 28, 2019
Love the location and the playground. The new owners are VERY unfriendly and the ladies bathroom was absolutely disgusting!! Crap and blood on the toilets! NO soap and no paper towels......We stayed from Friday to Sunday and they were not cleaned one single time! Miss the previous owners VERY much! We will be finding a new campground.
Aug 28, 2019
good my dog liked the little dog park I would stay again
Aug 12, 2019
This was the first KOA where management was invisible - I almost pulled stakes and left in the middle of the night. The posted Quiet Time was 9 PM to 7 AM. There was a gathering of people in the cabins area in a shelter that went late into the evening. I was in a tent close to the shelter and was ok with their noise until 11 PM. They laughed at my request for quiet and carried on past 2 am.
Sep 21, 2021
Staff, both office and site, were helpful and friendly! Had one of our group get put into a site that was a bit of a hike from the rest of us but overall our experience was great as usual!
- Tyson Harris on Google
Sep 16, 2021
Pretty great koa !!
- Daniel Martin on Google
Aug 24, 2021
Very nice place with big sites. Just wish they would improve the road into the park.
- Alan Page on Google