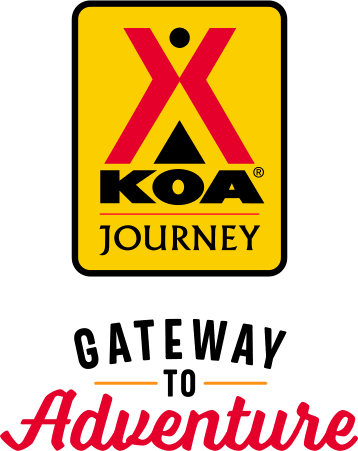 KOA Journey Campgrounds
KOA Journey campgrounds are the perfect oases after a day on the road. Whether it's along the way or a quick getaway, they've got you covered. Located near the highways and byways of North America with long Pull-thru RV Sites, they deliver convenience to the traveling camper. Pull in, ease back and take a load off.
KOA Journeys Feature:
Pull-through RV Sites with 50-amp service
Premium Tent Sites
Well lit after hours check-in service
Directions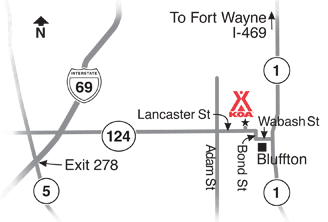 From I-69 exit 278 go north on St. Rd. 5 to Red Flashing signal small cemetery on east side of intersection. Turn East on St. Rd. 124 east. Continue east approximately 4 miles to first 4-way stop @ St. Rd.3 and St. Rd. 124 east continue east approximately 9 miles on St. Rd. 124 east to second 4-way stop @ Adams Street (to south) St. Rd. 124 (to north) large warehouse on north side of intersection. Continue east approximately ¼ mile to Campground entrance.
From I-469 exit 6 go south on St. Rd. 1 /also called Bluffton Rd. approximately 15 miles to city of Bluffton. Continue south thru first stop light (Walmart/Lowes) intersection. Continue South thru second stop light (Walgreens). Continue south to third stop light (Arby's/Sunoco station) turn west onto St. Rd. 124/116 approximately 1 mile. Cross R/R tracks continue west to Tee-intersection. Continue west on St. Rd. 124 over bridge to 4-way stop @ county Rd. 100E/St. Rd. 124/100N. Continue south on 100E/St. Rd. 124 approximately 1 mile to 4-way stop 2@ Lancaster St. /St. Rd. 124. Continue east on Lancaster St. approximately ¼ mile to Campground entrance.
From the east on St. Rd 124 west continue west to city of Bluffton @ first stop @ light Main St./St. Rd.124/St. Rd. continue south over bridge in (outside lane) to second stop light @ Main St./Wabash St. (Hardees on east side of intersection). Continue west on Wabash St. approximately ¼ mile cross R/R tracks to Tee intersection @ Wabash St./Bond St. Continue north on Bond St. to Tee intersection @ Lancaster St. /Bond St. Continue west on Lancaster St. approximately ½ mile to Campground entrance.
From the south on St. Rd. 1 north continue to city of Bluffton on St. Rd. 1/Main St. for 5 stop lights @ Main St/Wabash (Hardees on east side of intersection). Continue west on Wabash St. approximately ¼ mile cross R/R tracks to Tee intersection @ Wabash St./Bond St. Continue north on Bond St. to Tee intersection @ Lancaster St. /Bond St. Continue west on Lancaster St. approximately ½ mile to Campground entrance.
Get Google Directions
Aug 31, 2021
Kabin was kozy and appreciated the A/C! Proximity to showers/bathrooms was awesome. Pool could be cleaned up a bit. We checked in late (after 8) and tried calling to make sure that was OK but no answer. We weren't sure what to do about getting the kabin key... eventually we saw it in the foyer but an email or text would have been nice to receive. Other than that, we had a great stay!
Aug 30, 2021
The property has declined within the last few years. The property is very dirty. A lot of debris everywhere. The bathrooms were filthy and not tended to the whole weekend from Friday till Sunday. The shower smelled like urine. There is dangerous, broken pool furniture. Staff were friendly except the girl who didn't give our kids the change owed. It's like staff was on vacation. Please contact us.
Aug 23, 2021
It was a great experience, can't wait to visit again.
Aug 18, 2021
Very small KOA. Not very crowded which I liked. The only thing is the store closes really early so if you need anything then better get it in the morning.
Aug 17, 2021
The staff was very friendly. Reservations was a breeze. The cabin we stayed in was very clean and comfortable. This is definitely a new family favorite vacation spot that we will be returning to very soon!
Aug 14, 2021
My cabin still had trash in the can. Nothing at that point seemed even wiped gown. The office closes at 5 pm.
Jul 27, 2021
We really enjoyed ourselves. Staff at Bluffton KOA was awesome. So well we reserved the cabin for our vacation in 2022 July.
Jul 18, 2021
Bluffton is a beautiful town. My cabin at the KOA was much bigger than I anticipated; it made for a comfortable sleep and stay. The fireflies were fun to watch from the cabin swing. Make sure you stop by the store and grab some punny camping clothing!
Jun 18, 2021
I contacted the office directly prior to arrival to confirm they had a microwave and mini fridge. They confirmed. Upon arrival the cabin did not have a microwave, or broom and the floor was full of food wrappers and dust. The underside of the bunk beds had living spiders and webs. Very disappointed.
Jun 13, 2021
The bathrooms were not cleaned or refilled with toilet paper during our 3 day stay, the store never seemed to be open each time we went by even though the hours say they are open until 8pm, and on the day we were to arrive I called 10 times, emailed twice, and left a Facebook message from 1pm-6pm never received any response. Thankfully we did not need help because service was non-existent.
Jun 02, 2021
The cabin was very nice and clean. There was an animal under the cabin at least one of the nights. The manager was not the nicest person and threatened to cancel our reservation because we booked online and it allowed us to book for 2 nights. We were forced to either pay for the third night or have our reservation canceled. We chose to stay and it is a nice campground.
Jun 02, 2021
Always a great time! Love the owners and their staff are always friendly.
May 29, 2021
Great location. Mature trees at most campsites. Quite, away from roadways.
May 26, 2021
Bathrooms were very clean. Campground well taken care of, you can really tell the staff loves what they do. The kids never got bored and really enjoyed the planned activities! Will be back as often as possible
May 26, 2021
Amazing place! My kids had a blast!
Apr 08, 2021
We left after one night instead of the two we actually booked. No one was in the office even though we arrived at 4:00. We were unable to purchase firewood. The restrooms were not up to normal standards for a KOA. The showers were unexpectedly closed the following day and no one was again in the office to check out. We were very disappointed.
Nov 07, 2020
The cabin we stayed in was great. The day we arrived it was getting petty cold so we put both heaters on in the cabin. It got pretty warm in there so I was glad we didn't freeze!! The camp ground was clean and back off the road so you didn't really hear anything other than the trees and leaves in the wind. It was really nice to just turn everything off for a few days,
Oct 18, 2020
Our rv site was great. The lodge our companions rented is in need of updating and regular repairs. The unit smelled of sewer due to uncapped laundry connections and the shower needs a set of new on/off handles. It could also use a kitchen table and chairs.
Oct 10, 2020
Staff was great and our cabin was spotlessly clean. We will be back.
Sep 28, 2020
Very clean. Loved the activities. Friendly employees. Nice sites!
Sep 14, 2020
My family and I have stayed at this campground several times this year. We always have a good time we enjoy the pool and the cabins. The pavilion with the grill is really convenient to to not have to cook over a fire. The last two times we were here the cabins were not as clean nor the grounds. We found a pill on the floor that had not been swept well. That was very disappointing. We have children
Sep 02, 2020
I just wished that I could stay longer!!! We had a great time!!! We are talking about doing it again!!!
Aug 31, 2020
Very clean. Extremely friendly management. Very caring about their guests
Aug 31, 2020
Great place to stay. Lots of activities for kids to do. Friendly and polite staff to assist with any of your needs. Only issue was a Missing smoke detector in cabin
Aug 26, 2020
Very quiet and peaceful! Can't wait to come back
Aug 06, 2020
We loved it! This was our first time staying here. The staff was very helpful when we changed our tent reservation to a cabin. Staff greated us with a smile each time we talked to them. The restrooms, showers, and pool were very clean. Other campers were friendly and respectful. It was a very relaxing and peaceful visit. We will definitely be back.
Jul 15, 2020
Cabin was nice. Quiet campground. Bathrooms and pool were ok, however they were not cleaned at all during our week long stay. Also, the trash cans around the park were not emptied at all during the week.
Jul 15, 2020
There is so much for the kids Everything clean and reusable. Thank you.
Jul 11, 2020
Nice campground with large campsites and lots of hickory trees providing shade. Nice pool. Not a lot of interaction with staff due to Covid. Looking forward to returning, possibly in the fall.
Jun 23, 2020
Well maintained and perfect for a weekend trip!
Jun 22, 2020
Everything was very clean. Staff helpful and friendly.
Jun 08, 2020
Clean and friendly but limited supplies in camp store.
Jun 05, 2020
We had a great time! There were raccoons under the porch in the cabins, so they were pretty noisey. But the grounds were clean and everyone was very friendly.
Nov 06, 2019
Nice cabin. Very nice facilities. The shower had great water pressure and was very warm for having such cold weather. Could have had a little more heat on Thursday with the 30 mph winds and rain and snow. Over all a very nice place to stay.
Oct 21, 2019
Stayed in 3 of the cabins and also had family at 2 of the RV sites. Cabins were clean and very spacious and had a heater inside to stay warm especially with a 2 month old. We were able to use the pavillion for our entire family to eat and play cards. Had a great time. Thanks....
Sep 16, 2019
Very enjoyable weekend! Staff was very friendly and restrooms were clean.
Aug 26, 2019
Enjoy staying there every year.
Aug 25, 2019
One night while we are traveling. Met other people in cabins and had a lovely evening.
Aug 15, 2021
Nice campground. The pool was the best part.
- Rob Niemeyer on Google
Aug 24, 2021
Very nice place with big sites. Just wish they would improve the road into the park.
- Alan Page on Google
Aug 10, 2021
It was super relaxing but wish there hadbern sumpka e to fish, plus it was a distance away
- Jessica Dion on Google