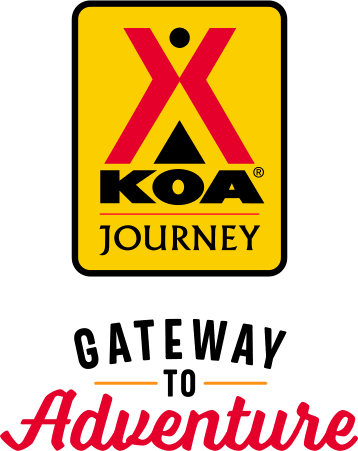 KOA Journey Campgrounds
KOA Journey campgrounds are the perfect oases after a day on the road. Whether it's along the way or a quick getaway, they've got you covered. Located near the highways and byways of North America with long Pull-thru RV Sites, they deliver convenience to the traveling camper. Pull in, ease back and take a load off.
KOA Journeys Feature:
Pull-through RV Sites with 50-amp service
Premium Tent Sites
Well lit after hours check-in service
Directions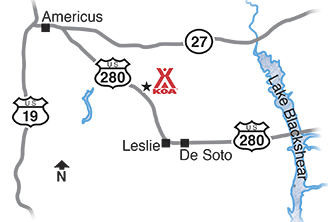 From I-75 take Exit 101. Go West on US 280. Continue 24 miles. Entrance is on the Right. From US 19 take US 280 East. Go East 11 miles. Brickyard Golf Club is the first entrance on the Left, continue 400 yards to the KOA RV entrance on the Left.
Get Google Directions
Jan 04, 2021
Southern hospitality at it's finest. From the moment Michelle met us at the gate, you felt at home. I met One of the owners in the store and she again was as nice and accommodating as could be! The rest rooms and laundry area were spotless and spacious. Great place to stay.
Jan 03, 2021
Awesome service and well kept grounds. Absolutely no complaints!! �ϋ�
Jan 02, 2021
We thoroughly enjoyed our visit at KOA Americus. The staff were incredibly friendly and helpful. We are already planning another trip back
Dec 31, 2020
Muy lindo el lugar, las instalaciones son limpias y el ambiente muy tranquilo. Fue nuestra primera experiencia haciendo camping en un tent. Todo perfecto. Gracias Michelle
Dec 29, 2020
Very neat, small and quiet campground. Many amenities. Excellent for snow birds or retired visitors that just want to slow down and relax. Staff very friendly and helpful. Will stay again.
Dec 28, 2020
The scenery is very nice but the sites needs much of improvement. The tree that at our site needs to be pruned higher. It scratches the roof top on the way out. This is the potential great rv sites until then, I will skip in the future.
Dec 23, 2020
Great stay. Large pull through sites. Very friendly staff.
Dec 19, 2020
always relaxing
Dec 12, 2020
Beautiful place, exceptionally friendly staff, some of the cleanest bathrooms ever! We would definitely recommend and return!
Dec 08, 2020
Staff and facility top notch and fun
Dec 03, 2020
We love camping here. Large, level sites, and free golf make it a wonderful campground to spend a few relaxing days and nights.
Dec 01, 2020
It was super easy to find our campsite. The hosts had our information right at the entrance. We enjoyed the quiet and not a lot of road noise. We will definitely be back! BTW Americus has a beautiful downtown that we will be back to explore some more.
Nov 30, 2020
This was a great find for us. We were searching for a campground with full hook-ups to share Thanksgiving with friends and Americus KOA Journey did not disappoint. The sites are fairly level and somewhat roomy. We enjoyed free golf, disk golf and even got to watch a disk golf tournament. The staff was very friendly and the sites and bathhouse were clean. We definately recommend this park.
Nov 30, 2020
Had a wonderful time this Thanksgiving at KOA Americus. Debra and her staff took exceptional care of my family. Highly recommend. Chris N
Nov 26, 2020
Had a terrific stay at the Americus KOA. The staff was great. Special thanks to Deborah (Manager) and Michelle (Camp Host). Very helpful and eager to make our stay a great one. The amenities at the campground are very nice. 18 hole golf course, disc golf course, paddle boats, fishing (catch & release),and large pull thru sites with full hook-ups. The restrooms are spotless clean. Thanks
Nov 25, 2020
The weather was fantastic during our stay. We golfed 18 holes every day most of our stay. Always very accommodating. We're going to be back for 2 months starting in February.
Nov 23, 2020
Bathrooms were very clean and beautiful! Very quiet and camp host that checked us in was very friendly! Great little campground!
Nov 23, 2020
Traveling through the area and stopped one night. Tent sites were great. Raised area, electric and even a light. The sites were directly across from the bathroom, which were very clean. The grounds were nice and the host that checked me in was very friendly.
Nov 21, 2020
Nice park with lots of amenities.
Nov 19, 2020
Wide open spaces, very clean. No trees so no shade. Host was very nice and helpful. Lots of things to do if you golf.
Nov 17, 2020
The girl that parked us was too sweet and helpful. All employees were friendly and went out of they're was to make us happy.
Nov 17, 2020
Just an overnight stay as we were heading further south. But even though we got there well after dark, someone was there to greet us and lead us to our site. Lots of rain in the Fall made for some wetness but no issues at all. Bathhouse was clean and and well kept. It was a nice one night stay
Nov 16, 2020
We enjoy staying at the Americus, GA KOA because the staff is always friendly and helpful. The restrooms are kept very clean.
Nov 16, 2020
Staff was excellent, sites were nicely spaced. Restrooms clean.
Nov 16, 2020
Enjoyed stay. Sites are spacious. I like pull through sites. Easy in and out. Friendly host.
Nov 16, 2020
If I could give them more than five stars I would. Very clean campground. Great employees - very friendly. We loved the golf course. Laundry was clean and all new machines. Stopped for 3 nights on our way to Florida. Next year will be at least one week.
Nov 13, 2020
Very clean and attractive park. Simple site access. Friendly and helpful staff.
Nov 11, 2020
Beautiful quiet grounds. Our welcome wasn't very warm. We arrived at 7:30 saw our packet at the late check in so we grabbed it and went to our site as we've done before. Then shows up the grounds keeper in her pjs upset at us for not stopping to be escorted in. We assumed the office was closed since our packet was out front. We got quite a bit of attitude while we stayed cordial.
Nov 08, 2020
Nice place. Great people.
Nov 08, 2020
This is a hidden gem. Serene, beautiful, extremely well maintained. Caring hospitable owners and staff. The exercise room with treadmills was amazing and appreciated. I will be back.
Nov 08, 2020
Nice and roomy place and In the open with some trees. Plenty of things to do at campground and in the area It is 5-6 miles back to town for gas and food
Nov 06, 2020
We try to only stay at KOAs if possible as the staff are polite and helpful and the restrooms clean. Grounds are well taken care of Have awesome weekend!
Nov 06, 2020
It was amazing, I showed up after hours and had trouble finding firewood and all I did was call and there was someone to answer the phone even after hours. All in all it was a pleasant stay and the employees will help you in any way possible to make your stay perfect.
Nov 04, 2020
Unfortunately, due to the ongoing health concerns, we were unable to see the things in the area that we planned. We are definitely returning to this campground in the future. Large level sites . Clean and well maintained grounds. Friendly staff. Quiet and away from all the hustle and bustle.
Nov 03, 2020
The hosts were very helpful and friendly
Nov 03, 2020
A quiet remote beautiful KOA in a lovely area. I've given you a 5 star review on Yelp!
Nov 02, 2020
The family that runs this KOA are awesome! The campground and restrooms are clean and well maintained. Free golf and great disc golf course included in your stay. We will certainly return!
Nov 01, 2020
The golf was great
Oct 31, 2020
Super friendly staff and beautiful park!
Oct 30, 2020
Arrived late. Set up and had a good cloudy, rainy night in Georgia. Very peaceful and well kept. Had a good visit with camp personnel next morning. Beautiful agriculture area. Enjoyed the stay. Brief as it was. Bery nice drive from town to the campground.
Oct 28, 2020
Ideal adult camp ground. Just not a lot of kids activities. I will revisit this camp ground.