Reserve Now
Or Check Rates
Campground Amenities
Amenities Overview
Campground Amenities
50

Max Amp

80'

Max Length

Wi-Fi

Pool (5/22 - 9/7)

Propane ($)

Fishing

Mini Golf ($)

Firewood ($)

Pavilion

Bike Rentals ($)
Unique Amenities
Planned Activities Available
Campground Activities
Our campground activities at Honesdale/Poconos KOA are open from April 17 through October 18
View All Activities
Campground Events
Listing
Calendar
Halloween at H/P KOA!
Site decorating contest - winners in 3 categories get a prize, costume contest - 1st in all age groups get a prize, & don't forget to bring your candy for Trick or Treat!!  Halloween party - bring a snack to share & we will play games to win more candy!!  New this year!!  Wooded Pumpkin Walk!!  ($) - all proceeds go to KOA Care Camps!!
Read More
Campground News
The Train Is Coming Back!
The Delaware, Lackawaxen & Stourbridge Train has scheduled the return of the Train Rides in Honesdale!  We are excited about this return and know our campers will be excited to ride the trains!  The DL & S will be kicking off the May 9 - 10 Weekend as the National Train Days Weekend and train rides are scheduled to start at that time.  They will also be scheduling the Great Train Robbery & many more themed rides.  Please go to the  www.visithonesdalepa.com website for more information on scheduling and tickets.
Read More
Meet Your Hosts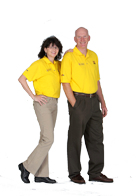 "We are campers ourselves, we love camping, and we work hard to provide you a safe, fun, and peaceful time while you make great family memories."
We love being campground owners because we get a chance to be with other campers everyday that are here to have fun, relax, and enjoy the peace that our campground offers. We have always enjoyed camping and hope you will have a great time here with us at Honesdale/Pocono KOA.
Tim is from Pennsylvania,and decided that office politics is a thing of the past! He always wanted to have a campground and asked Debby if she could see that vision after one year of marriage. Debby never camped until she met Tim and asked "You want me to cook in where?" in reference to their 24 foot, no slide out RV. What a long way the campers have come! Debby is from Massachusetts, moved south to get warm, and how did we end up in North East Pennsylvania again?
Truthfully, the Pocono's are a great place to be and you get four full seasons each year. Very cold and snowy winters to hot, sunny, summer days. We loved this campground on sight and hope you will join us in that love.
We know that you have many choices as to where you camp and hope that you choose us, Honesdale/Pocono KOA when you plan your next trip.
Tim & Debby