Reserve Now
Or Check Rates
Campground Amenities
Amenities Overview
Campground Amenities
50

Max Amp

45'

Max Length

Wi-Fi

Cable TV

Pool (5/24 - 9/4)

Propane ($)

Firewood ($)

Pavilion

Tour Shuttle ($)
Unique Amenities
Basketball
Bocce Ball
Free cable TV
Game Arcade
Free Wi-fi
Ice Cream Socials
Horseshoe Pits
Jumping Pillow
Kamp K9 Dog Park
Kornhole Toss
Kamp K9 Dog Park
Many pull-thru sites
Outdoor Movies
Roasty Toasty Kampfires
Outdoor Ping-Pong
Tetherball
Trolley to oceanfront in-season
Tie-Dye & Crafts
Two swimming pools
Two playgrounds
Volleyball
Campground Activities
Activities and themed weekends abound from May into September at Virginia Beach KOA!
May 17-19 Second Annual Home Educators Appreciation Weekend
Virginia Beach KOA loves homeschoolers! Since you make many sacrifices, we want to honor you by giving you a get-away weekend… with special rates, plenty of fun for all ages, goodies and prizes, and a chance to build some great family memories. Call the campground directly for details. Not a home educator? That's OK—all campers are welcome to join in the fun! But you'll need to show proof of homeschooling to get the special rates.
Read More
Campground News
Announcing a simpler, cheaper Scout Rate!
Click on "Hot Deals" to learn more.
Read More
Announcing the 2013 Great Mid-Atlantic Beach Tour!
Stay at either the Virginia Beach, Cape Hatteras, or Myrtle Beach KOAs for 2 nights...then stay at one of the others for 2 nights...and get a free night! Click on "Hot Deals" to learn how it works.
Read More
Meet Your Hosts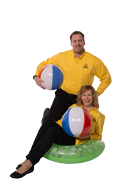 "Two great reasons to camp with us in April: Virginia Beach is beautiful in spring, and kids camp free through April 30!"
The first qualities you'll notice about Keith Stachurski are his enthusiasm and positive attitude. His favorite part of his job is greeting our guests and making sure the staff goes out of its way to make YOU feel welcome. In fact, you may see Keith cruising around the campground in his custom golf cart, stopping by just to say "hello."
Keith is passionate about wanting the Virginia Beach KOA to give you a get-away from life…a place for you to relax and re-energize - where you can leave your worries and your to-do list behind. He hopes this will be a place where you can build positive, lasting memories with your family, and be a "home base" while you enjoy all that Virginia Beach has to offer. He wants your experience at Virginia Beach KOA to be so great that you can't wait to tell your friends and family about it!
Keith, his wife, and two teenage children come from Wisconsin, where they managed a campground for several years. In their spare time, they like to visit Virginia tourist sites, just like everyone else! Keith also enjoys weightlifting and football.
No matter where he lives, he will always be a Green Bay Packer fan and a "Cheesehead" at heart.