Reserve Now
Or Check Rates
Campground Amenities
Amenities Overview
Campground Amenities
50

Max Amp

60'

Max Length

Pool (Open Year-Round)

Hot Tub / Sauna

Propane ($)

Fishing

Mini Golf ($)

Firewood ($)

Pavilion

Bike Rentals ($)
Unique Amenities
RV Clubs & Rallies
Military Clubs
Families
Motorcycle Clubs
Tours
New Pet Friendly Lodging
Campground Activities
Sizzling Summer Saturdays start in May. Live music, BBQ and Ice Cream social at the pool and a planned activity for the kids!
View All Activities
Campground Events
Listing
Calendar
Summer Themed Saturday
May 18 - Aug 31, 2013, Every Weekend @ 10am - 10pm
Join campers at the St. Petersburg/Madeira Beach KOA for our Summer Themed Saturday -- we'll kick off with an activity for the kids at 10 a.m. by the playground, and continue our themed party at the pool with live music and barbecue, followed by an ice cream social. End the day with a relaxing movie while floating in the pool!
Activity Themes are as follows:
May 18: Celebrate You Favorite Sports Team
May 25: Memorial Day Celebration
June 1: 70s Flashback
June 8: Tiki Party
June 15: Father's Day Celebration
June 22: Pet Weekend
June 29: 50's Rock & Roll Party
July 4: Red, White And Blue Party
July 13: It's Your Birthday
July 20: Corny Weekend
July 27: Christmas In July
Aug 3: Pirate Invasion
Aug 10: Happy August Halloween
Aug 17: Country And Western Jamboree
Aug 24: Mardi Gras Time
Aug 31: Labor Day Celebration
Read More
Meet Your Hosts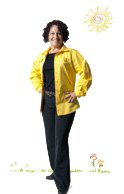 "Have you checked out the St. Petersburg / Madeira Beach KOA lately? We've just opened our second hot tub, a lovely private area just for adults!"
Lori Hight, manager of the St Petersburg/Madeira Beach KOA, has the perfect outlook to make your stay memorable. She says, "I love helping people!"
Lori has been involved in all phases of the camping experience. In her 15 years at Camping World, she helped campers with everything from sleeping bags and checkers games to awnings and hot water heaters.
Now at the St Petersburg/Madeira Beach KOA, she is able to take that experience a step farther and be involved with her campers right at ground level. "Being one-on-one with my campers and making great memories together is my number one goal."
Lori and her husband have 3 children, and guess what they do for fun? They are right back in the great outdoors! They all love camping, fishing, kayaking and going to the beach.
"I am really excited to meet all of the wonderful people at St Petersburg/Madeira Beach KOA! Come visit me, and let's have a G-R-E-A-T time!"