Reserve Now
Or Check Rates
Campground Amenities
Amenities Overview
Campground Amenities
50

Max Amp

132'

Max Length

Wi-Fi

Cable TV

Pool (6/1 - 9/6)

Kamping Kitchen

Mini Golf ($)

Firewood ($)

Pavilion

Bike Rentals ($)
Unique Amenities
Children's Playground
Dog Grooming Salon, Self-serve
Families
Laundry
Motorcycle Clubs
Nature Trail
Pet Playground
Planned Activities Available
Pool Table
Tours
Campground News
On site RV Weigiing
How much does that RV weigh? Having tire problems? Are you overloaded? We can answer all these questions and more.  We have on site RV weighing per individual wheel location with portable scales. A complete printout with debrief is done showing all weights and any out of tolerance conditions.  For more details see Bill when you arrive, and to schedule your weigh!
Read More
It's all about the dogs!
At the Sault Ste Marie KOA we welcome all our furry friends! They can enjoy the newly appointed Kamp K-9, go for a hike with their 2-legged partner on the trails, and get all spruced up in the on-site self groom Kamp K-9 Salon! For those pups and handlers with Agility experience, they can enjoy the use of the regulation Agility field complete with competition-level equipment. Field is rented by the half hour.
Read More
Meet Your Hosts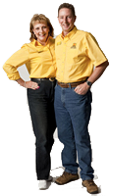 "We look forward to welcoming you to our piece of Paradise in beautiful Northern Ontario"
Bill and Joan Richard, along with their 4 Collies Indy, Macy, Breeze, and Chase are the proud new owners of the KOA in Sault Ste. Marie, Ontario as of Spring 2010!
Since 1992, Bill and Joan have been active RVer's and know what campers are looking for. Joan is an accredited Dog Groomer and also a trainer and competitor for Dog Sports, Agility and Obedience. Bill has been in the Aircraft Maintenance industry for 33 yrs on Civil and Military aircraft and a USAF Thunderbirds alumni.