Reserve Now
Or Check Rates
Meet Your Hosts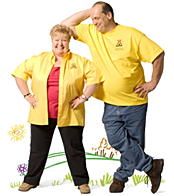 "Our Campers experience a "Northern" type setting while not having to drive more than 2 hours north of Toronto. Come marvel at our "Near North Starry Nights" as you relax & explore this unique area of Georgian Bay and it's 30,000 Islands!"
The Parry Sound KOA "is the best thing that could ever happen to us," Michelle Berry said of her family's purchase of their second generation campground. Michelle and Don and their two sons enjoy winter activities as a family and work together in the campground during the summer. "It really has been a good change."
They sold their family farm south of Toronto in 1999, and since her parents knew they were looking at resorts and other business opportunities, they approached the couple with the idea of buying the KOA. The deal came together in less than two months. Don had worked in the forestry division of the Ministry of Transportation, and Michelle was trained as a registered lab technologist.
The Berry's take pride in welcoming guests to a friendly and beautiful campground, and they live in a home they built on the grounds. They've made a lot of changes at the campground, including a new front office, new deluxe cabins (formerly called lodges), new computer systems & wifi, revamping the store & pool area, and adding a large recreation hall. Their boys are learning about the business and the values of hard work. They already talk about the day when they can run the campground, she added.
The family loves living north of Toronto, where they get a lot of snow and enjoy winter activities such as hockey, ice fishing and snowmobiling. "It is our family time," she said, adding that she and Don are also very involved as volunteers in the community.
Campers at the Parry Sound KOA really enjoy all the recreational opportunities associated with the prime campground location. Dozens of lakes surround us and famous Georgian Bay is only 10 minutes away...for all you fishing and boating enthusiasts The campground is right next to the Trans Canada/Seguin Trail, a multi-use trail that is open to four-wheelers, dirt bikes, walking, horseback riding and biking. The campground serves as a base for a variety of outdoor recreation enthusiasts who use the trail and or lakes that are so prevalent in our immediate area.