Reserve Now
Or Check Rates
Campground Amenities
Amenities Overview
Campground Amenities
50

Max Amp

100'

Max Length

Wi-Fi

Cable TV

Pool (4/19 - 10/27)

Hot Tub / Sauna

Snack Bar ($)

Propane ($)

Kamping Kitchen

Fishing

Mini Golf

Firewood ($)

Pavilion
Unique Amenities
Family Reunions
Fitness Center
RV Clubs & Rallies
Golf Cart Rentals ($)
Indoor Swimming Pool and Spa
Campground News
NEW in 2013--the Hippo!!
The Hippo is our latest recreational item. Plans are that we will open this giant inflatable water slide around Father's Day weekend, June 14-16, 2013. Check out this video http://www.youtube.com/watch?v=5fIMKQBJOH0 then check back here later for more specific details. Our plan is to put the Hippo by the pond.
Read More
Check out our Lodges--New in 2012
We are now taking reservations for our new Lodges. They are located on the ridge between Kottage K54 and Sunset Acres. Sleep up to 8 people (including a loft for 2 kids), with a full kitchen and bathroom. Check them out!
Read More
Meet Your Hosts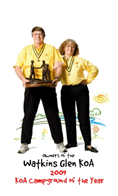 "Our goal is that you have a legendary camping experience, making us the standard by which you measure all others."
Paul and Cam Friesen enjoyed camping with their kids over the years, and now enjoy the lifestyle of KOA ownership.
They purchased their KOA in June 1992, moving from the Chicago area. "Paul and I like working together. And when our kids were still at home it was nice being together as a family," notes Cam.
Prior to moving to the KOA Kampground business, Cam was a full-time Mom for their four kids, and Paul was a manager in computer information systems for an office supply company. They enjoyed camping in Wisconsin and Minnesota prior to heading east.
Now that their children are grown and the grandchildren have starting arriving, they have become full-time RVers and enjoy lots of travel throughout the year.
"We like the campers who come here," Cam added, and they do their best to keep the customers happy.
Paul designed and built a creative Pirate Ship playground, using 100% recycled plastic lumber, which is safer for the kids, Cam noted. "It's huge. It's 44 feet long, and has a couple of decks and slides and walkways. The kids just have a ball on there."
Another project was even larger. They built a 6,900 square foot indoor recreational building in 2005, complete with large pool, spa, fitness room, game room, and meeting room.
They continue to add amenities to the campground every year.
Paul enjoys woodworking and cabinetmaking as a hobby. Cam enjoys reading, quilting, and the couple continues to enjoy traveling whenever they can.