Reserve Now
Or Check Rates
Campground Amenities
Amenities Overview
Campground Amenities
50

Max Amp

80'

Max Length

Wi-Fi

Cable TV

Pool (5/27 - 9/5)

Propane ($)

Kamping Kitchen

Fishing

Mini Golf ($)

Firewood ($)

Pavilion

Bike Rentals ($)

Tour Shuttle ($)
Unique Amenities
Families
Military Clubs
Motorcycle Clubs
Planned Activities Available
Recreation Hall - opens in May
RV Clubs & Rallies
Sand Volley Ball Court
Shuttle Service (fees)
Tours
Campground Activities
Our Summer here is packed with fun for all ages! From KOA Care Camps BIG Weekend to our VKR appreciation we have activities for everyone from 1-100. Memorial Day - Labor Day weekends we will be the busiest and will have krafts, games, movies, Ice Cream Socials, special events, themed weekends, tournaments, and so much more! Kids can have fun fishing, playing basketball, sand volleyball, mini golf, & riding our fun cycles. Adults can enjoy long walks on our trails, horseshoes, & touring the area. EVERYBODY can enjoy our fantastic pool! Even the pets enjoy our place - especially the Bark Park!
Campground News
No outside Firewood allowed! We have options!
Due to the loss of many trees we have had to be strict with our outside firewood policy! But we now offer a solution! We have found a 'safe' firewood and we can offer another option in addition to our usual 'bundles' of wood - a golf cart full of firewood. Golf carts of wood can be ordered on arrival, or you can make a note on your reservation that you would be interested and will make sure to have that available for you when you arrive. Thanks for understanding why we can't allow outside firewood, and for helping us save the remaining trees on our property!
Read More
Our Virtual Tour
Be sure to browse through our virtual tour! It gives you a great opportunity to check out our facility in the comfort of your own home.
Explore our kabins & deluxe kabins, see our RV sites & amenities. And don't forget to check out our beautiful pool!
Enjoy your tour!
Read More
Meet Your Hosts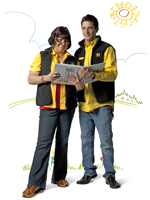 "Guest Services is our specialty! From Welcome to Farewell, we are at your service and hope to meet all your needs during your stay! We specialize in assisting new RVer's all the ropes to running their units the best possible way."
Expect to be treated like family and be greeted with a smile when you arrive at the Elkhart Co./Middlebury KOA! The Perkins originally are from the Boston area of the East Coast and are former ardent campers. "We give our guests the kind of service we would expect from a campground," Hope says.
Owner Hope Perkins (with her late husband Peter) purchased the campground in 2002. Previously, Hope worked for an ophthalmologist as an assistant, but both were ready for a lifestyle change and wanted to interact with people who were traveling. Hope throws her all into the campground and is proud of the many upgrades and changes they have made since purchasing in 2002.
Hope's son, Nick, known as "Boston," brings new life to the campground with his youth, energy, love of the outdoors and interest in today's ever-changing technologies. Nick can be seen darting all over the campground chasing a lawn mower or working on the latest projects. He is also in charge of our recently upgraded pool and all that goes with keeping it clean for our guests.
Hope and Nick are particularly proud of their extensive store that offers everything from RV supplies to great local souvenirs.
When the family is not traveling, they enjoy visiting with their guests, listening to music, reading, watching movies and scrap booking.