Reserve Now
Or Check Rates
Campground Amenities
Amenities Overview
Campground Amenities
50

Max Amp

110'

Max Length

Wi-Fi

Pool (5/16 - 9/14)

Hot Tub / Sauna

Kamping Kitchen

Firewood ($)

Pavilion
Unique Amenities
2 Bedroom Kabin in the Woods
Giant Chess & Checkers
Horseshoes and Volleyball
Wagon Rides
Walking Trails/Dog Walk/K9 Camp
Campground Activities
We offer many great activities throughout the camping season for your everyone to enjoy. Please visit our campground event calendar on the next tab for a list of weekend activities.
View All Activities
Campground Events
Listing
Calendar
Value Card Weekend!
Join us on Sept. 12-13. Our KOA Value Kard members receive Saturday night free when paying for Friday night.
We will have wagon rides, children's crafts, a kids scavenger hunt and The  LAST Ice Cream Social for the 2014 Camping Season. Book now as sites are limited.
Read More
October 10-13 - Thanksgiving Weekend
Spending time with Family and Friends is a nice way to spend your Thanksgiving Weekend. We will have a Children's Craft and wagon rides, weather permitting.
Read More
Campground News
Please Leave Your Firewood At Home.
A single piece of firewood can destroy millions of trees. Transportation of firewood is a common way for invasive species to spread as they remain hidden under the bark where you can't see them. Bringing firewood from home may accidentally spread pests that threaten Ontario campgrounds and the health of our forests.The Canadian Food Inspection Agency has issued Federal Ministerial Orders that prohibit the movement of specific materials, including firewood and any material made from ash trees, from specific areas of Ontario, Quebec and the United States The emerald ash borer, on its own, does not move very far. Hidden in the bark of trees, this tiny hitchhiker has traveled with many an unsuspecting camper and as a result has killed millions of ash trees across Canada. You could face penalties of up to $50,000 and/or prosecution if you move firewood out of an area regulated for a quarantine pest without prior approval from the Canadian Food Inspection Agency.
Read More
Meet Your Hosts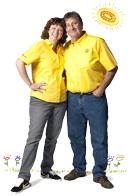 "We do everything we possibly can to make our campers stay the best it can possibly be."
For Mari and Ed Bryans, owners of the Brighton KOA in Ontario, camping runs in the family. "It's something we've always done," Mari says. "I grew up on the campground owned by my parents. Then I married Ed, and he became active in the campground business."
They owned a private seasonal park before purchasing the Brighton KOA campground, but decided to make the switch to KOA because they liked the values KOA represented. They purchased the Brighton campground in June of 2006.
The location and setting of their campground is their biggest pride as campground owners. The beautiful rolling hills and wooded areas make for majestic scenery that they and their campers enjoy. "We do everything we possibly can to make our campers stay the best it can possibly be."