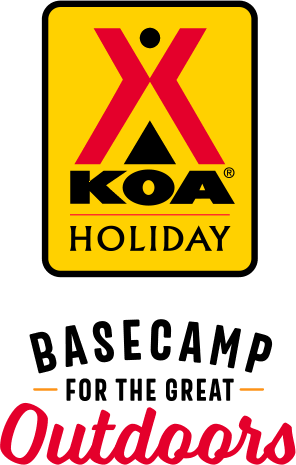 KOA Holiday Campgrounds
Whether you're exploring the local area or hanging out at the campground, KOA Holidays are an ideal place to relax and play. There's plenty to do, with amenities and services to make your stay memorable. Plus, you'll enjoy the outdoor experience with upgraded RV Sites with KOA Patio® and Deluxe Cabins with full baths for camping in comfort. Bring your family, bring your friends, or bring the whole group – there's plenty of ways to stay and explore.
KOA Holidays Feature:
RV Sites with a KOA Patio®
Deluxe Cabins with full baths
Premium Tent Sites
Group meeting facilities
Directions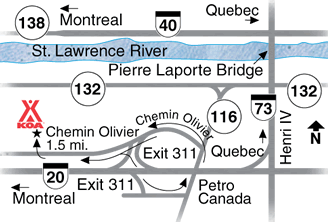 From 20 east, take exit 311. Turn left on "Rue de Berniere" and left again on "Route des Rivières". Pass over the highway and turn left on "Chemin Olivier" until you have reached your destination.
From 20 West, take exit 311. Turn left on "Chemin Olivier" until you have reach your destination.
Get Google Directions
Sep 20, 2021
construction noise early in AM, Septic like opens about 1 foot from table you eat at, lots are so narrow had to ask people to move so we could light a fire, no grate on fire pit, sensor light on property next to campground extremely bright and on and off all night, beep from backing up heavy vehicles in business next door early in the morning, lawn cut clippings all on patio we paid more for
Sep 20, 2021
Seul point négatif, les bornes pour l'eau et l'électricité étaient du mauvais coté de mon VR.
Sep 20, 2021
Super bien! Sauf que les poules n'étaient pas nourris et avaient plus d'eau à boire, il faudrait attacher les plats d'eau pour éviter de les renversés. Mais à part ça…..très paisible comme endroit.
Sep 20, 2021
Très accueillants et lieux très propre j ai beaucoup apprécié mon séjour merci
Sep 20, 2021
Tres accueillait et propre
Sep 20, 2021
3rd time staying at your RV resort. We love it. So clean and we'll maintained Thank you
Sep 19, 2021
Très belle expérience
Sep 19, 2021
It was for one night only, but we liked it much. The pool area was the highlight at the Québec City KOA, and the friendly staff. We chose KOA every time when we are here in for our holidays.
Sep 19, 2021
Bien aimé notre court séjour. Nous avons apprécié la propreté du terrain et l'hospitalité du personnel. Bien situé pour apprécier la ville de Québec et ses environs. Bien situé également pour un transit de une ou quelques nuits. Nous y reviendrons. Merci!
Sep 19, 2021
Le seul inconvénient est qu'on ne peut se servir des places pour le feu parce qu'on est très près des véhicules voisins
Sep 18, 2021
Very clean. Beautifully set up and landscaped. Nice amenities with evening fire going in outdoor common area. The only negative was the highway noise, heard even though we were camped further away from it.
Sep 18, 2021
easy access and wonderful staff
Sep 17, 2021
J'ai loué un bungalow et je décerne un 5 étoiles pour la propreté des lieux. Tout les objets nécessaires à un court séjour sont présents et même plus . Le tout nouveau coin Spa-piscine est très beau et bien placé . Alors sans hésitation , je retournerai dans ce Koa mais cette fois-ci avec ma roulotte .
Sep 17, 2021
Beaucoup de monde. Peu de terrains disponibles mais tous ont respecté les règles sanitaires et le silence. Bel accueil à la réception. C'est le meilleur endroit pour visiter la belle ville de Québec.
Sep 17, 2021
Site and washrooms very clean
Sep 17, 2021
Great stay! Clean, well kept. Staff were friendly. I would stay there again!
Sep 16, 2021
Great campground with large pull through lots. Beautiful pool area and showers were very clean. Only wish is that the hot water was hotter in the showers. Would definitely return. The grounds were beautiful
Sep 16, 2021
Tranquillité
Sep 16, 2021
This is my second time staying at this KOA. This time we upgraded our rental from a basic cabin to one with a partial kitchen and was pleasantly surprised to find a kitchen sink, dishes, cutlery, hot plate, kettle, toaster etc. Loved the new location of the pool. A very spa like appearance. We will be back and hope to book the same cabin as we did for our most recent visit. A lovely getaway.
Sep 16, 2021
This is our second stay. We will definitely be back!
Sep 15, 2021
Agréable, mais nous trouvons que les feux de camp sont de trop. Cela empeste l'air et on doit fermer les fenêtres pour ne pas tousser. Plusieurs endroits abolissent les feux de camp...
Sep 15, 2021
Nice camping, easy access and fairly close to all Quebec City attractions. Most camping site are Pull Through, easy access. Could have more Premium sites available also.
Sep 15, 2021
Pleasant office check in experience. Nice campsite. Exceptionally clean bathroom/showers.
Sep 15, 2021
Je trouve inacceptable de charger un frais de 20.00$ pour faire le choix du terrain ? Est-ce une nouvelle politique
Sep 15, 2021
Only stayed one night but will definitely come back. Campground is conveniently located, well maintained and staff was very friendly and accommodating.
Sep 15, 2021
Washrooms very dirty, cobwebs all over, and not to mention the 2 spiders I seen in the shower. Hair in all thé sinks. Now to mention outside, the gentleman was cutting the grass and came right on our lawn, he had no respect, so we put a chair there so he would not continue. The garage can was so full, could not put it anywhere.
Sep 15, 2021
Appears to be an upscale RV Park
Sep 14, 2021
toujours plaisant, très beau terrain, belle piscine et beau SPA
Sep 14, 2021
Beautiful clean location and very quiet. We will definitely be back on our way East next year. Thanks so much.
Sep 14, 2021
Excellent wifi à amiliorer
Sep 14, 2021
The nicest KOA yet!! Wonderful staff at checkin, campground was wonderful with a pool, cabanas, hot tub, coloured water fountains….. Great location with easy access off highway and close to Old Quebec.
Sep 14, 2021
It was quiet, and the staff were friendly.
Sep 13, 2021
Le bosquet autour de la dalle de béton des site en haut, réduit énormément l'espace viable du terrain.
Sep 20, 2021
Dieser KOA nahe der Stadt Québec ist ein sehr übersichtlicher Campingplatz. Neben dem Office befindet sich gleich der Waschsalon, der, für die eher am hinteren Ende platzierten Camper schon sehr weit weg ist. Dafür gibt es aber seit kurzem einen Pool mit anschließenden chillout area. Die Toiletten und Duschen sind ebenfalls in guten Zustand. WIFI ist am gesamten Areal gut zu empfangen. Wir waren wie immer sehr zufrieden.
- MichaelA22 on Trip Advisor
Sep 17, 2021
Tout a été parfait. Beaucoup de monde ce weekend mais les règlements ont été respectés par tous. Bel accueil et bel endroit. Les sites sont très faciles d'accès.
- Guy Robitaille on Google
Sep 16, 2021
Très bien..
- Francine St-Louis on Google