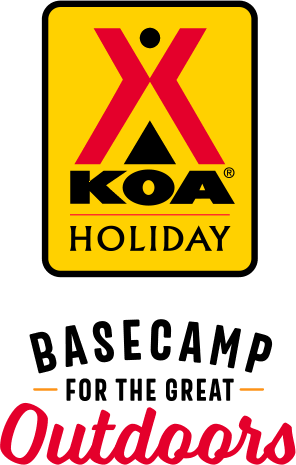 KOA Holiday Campgrounds
Whether you're exploring the local area or hanging out at the campground, KOA Holidays are an ideal place to relax and play. There's plenty to do, with amenities and services to make your stay memorable. Plus, you'll enjoy the outdoor experience with upgraded RV Sites with KOA Patio® and Deluxe Cabins with full baths for camping in comfort. Bring your family, bring your friends, or bring the whole group – there's plenty of ways to stay and explore.
KOA Holidays Feature:
RV Sites with a KOA Patio®
Deluxe Cabins with full baths
Premium Tent Sites
Group meeting facilities
Directions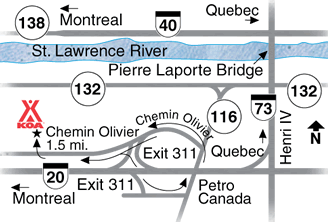 From 20 east, take exit 311. Turn left on "Rue de Berniere" and left again on "Route des Rivières". Pass over the highway and turn left on "Chemin Olivier" until you have reach your destination.
From 20 Ouest, take exit 311. Turn left on "Chemin Olivier" until you have reach your destination.
Get Google Directions
Jun 18, 2021
We found the staff very friendly and helpful. The facility was clean and well maintained. We enjoyed our stay very much. Would stay again. Would recommend it to anyone.
Jun 18, 2021
Très beau camping mais trop près de l'autoroute pour un séjour en tente. L'emplacement tente par contre est super bien, ombragé et très propre. WIFI partout c'est super !
Jun 16, 2021
L'endroit se bonifie à chaque visite. Le nouvel « Espace aquatique » est une réussite totale. Les blocs sanitaires et buanderie sont parmi les plus propres rencontrés dans les campings au Québec. La boutique n'est pas minimaliste et digne de mention. Le personnel très accueillant. Dans la balance des inconvénients, le bruit de l'autoroute devient secondaire et pas pire que dans nombr
Jun 16, 2021
j'AI AIMÉ MAIS UN PEUT TROP DE BRUITS DES AUTRE CAMPEURS, KARAOKÉ ETC
Jun 16, 2021
Great friendly staff, awesome camp grounds with new pool, hot tub and kids sprinkler and clean washrooms. I will come here again!!!
Jun 16, 2021
Très bon séjour bravo pour la propreté du site, de la buanderie et des toilettes superbe piscine
Jun 15, 2021
Très belle expérience pour nous , nous reviendrons assurément
Jun 15, 2021
Emplacement parfait pour nous , cependant nous nous attentions s une piscine chauffée .Cd qui n et as if pas le cas durant notre séjour.
Jun 14, 2021
Dans la région de Québec le Koa est notre camping favori de part son emplacement. Nous apprécions beaucoup la baisse des tarifs de cette année. On y retourne bientôt !
Jun 14, 2021
Excellent séjour. Très agréable.
Jun 14, 2021
Très beau camping, grand, propre, bel accueil. Nous reviendrons
Jun 14, 2021
Très satisfait malgrer que nous avons payer un extra pour avoir deux terrain coller et sa na pas été le cas nous avons été déçu avec les enfants s'était pas pratique
Jun 14, 2021
Les lieux sont extrêmement propres. Piscine, bloc sanitaire, le terrain, les installations tout tout tout est parfait. Le seul petit point négatif c'est que je réserve par téléphone et lorsque je reçois la confirmation par email tout est en anglais. C'est quand même un terrain de camping à 5 minutes de la ville de Québec. Déception !!!
Jun 13, 2021
Il y a de grand terrain, ombragé, belle piscine, accueil courtois, tranquille.
Jun 13, 2021
Endroit très chaleureux et très propre.
Jun 12, 2021
Nous avons eu un super beau site avec patio et très bon accueil
Jun 12, 2021
Très beau terrain gazonné. Bruyant par contre avec l'autoroute qui près du camping.
Jun 11, 2021
The new pool area is awesome !!!
Jun 11, 2021
Good service nice place
Jun 09, 2021
Very good and a very nice update to the pool area. Brand new. Thank
Jun 09, 2021
Excellent terrain de camping le personnel est très accueillant, nous avons aimé notre séjour à ce camping!
Jun 09, 2021
very good campground
Jun 07, 2021
Everything was very clean ...Staff were polite and very helpful.
Jun 07, 2021
Notre séjour fut agréable: le personnel est courtois, professionnel, sympathique. Nous sommes vraiment satisfaits de notre séjour.
Jun 07, 2021
Très bref mais tout paraissait très bien
Jun 07, 2021
It was a quick stay, but it was easy and simple.
Jun 06, 2021
A proximité de toute la region de Québec.
Jun 04, 2021
I unfortunately got rain. Otherwise it is a beautiful site. The staff was pleasant and made me feel welcomed. A bit closed to the highway, but if you book below the hill you cant even tell
Jun 02, 2021
Tres bien , 2 belles semaines , personnel accueillant. Juste désolée qu'on ne m'a pas parlé de l'escompte FQCC pour la première semaine , je l'ai découvert par moi même à la deuxième réservation ... un beau camping et bientôt un bel aménagement piscine mieux située, merci et bonne continuité!
Jun 14, 2021
Camping très bien situé près de la ville et de chez moi, un endroit parfait pour nos petits séjours. Les propriétaires et employés sont vraiment très sympathiques. Je recommande.
- Patricia Maheux on Google
May 23, 2021
Très agréable bon service
- suzanne vincent on Google
Jun 09, 2021
Agréable 4 jours en camping, terrain propre, bel aménagement paysagé, parc pour notre chien, etc.. oui, nous y retournerons.
- Réal Saindon on Google