Quebec City KOA Holiday Recreation
Are you dreaming of escaping your everyday life, while staying close to a wonderful and exciting city? The KOA Quebec City offers you the tranquility of nature and the proximity to local activities such as the Quebec City Summer Festival, the Quebec City Aquarium, the Old Quebec and plenty of tracks, golf courses and great views.
If you prefer to stay with us and enjoy the campground and its activities, weekends with us are filled with good times and smiles. Every Friday and Saturday evening, we offer free popcorn in front of a movie. Our new swimming pool accommodates activities such as Aqua fitness, bull riding fights and treasure hunts. Our team can't wait to see you!
Bus tours
This is your chance to visit history first hand. The Latin Quarter, Plains of Abraham, Ramparts, world famous Château Frontenac, National Assembly, Basilica, City Hall, Place-Royale, Citadelle and a glimpse of modern Québec City are the perfect introduction to the city. www.toursvieuxquebec.com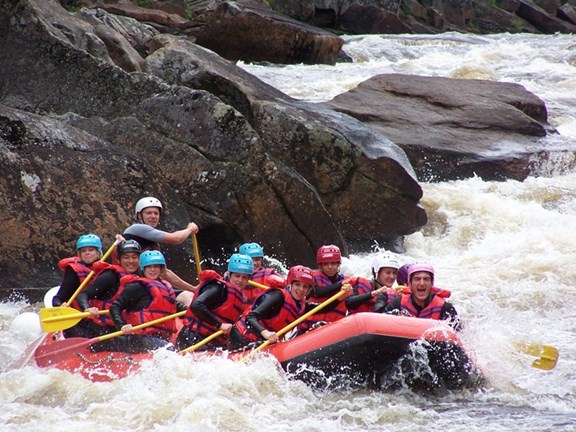 Rafting
Québec's rivers have energy to spare! Untamed, these rivers won't let you ride their raging rapids without a fight. Exhilaration, rapture, fear, laughter and fulfillment are all part of the river rafting experience in Québec.
Local Area Recreation