Reserve Now
Or Check Rates
Meet Your Hosts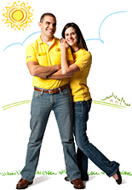 ""We want our guests to walk away feeling that we care and that their needs have been met.""
Ready for a change of pace and a change of scenery from the Midwest's
farmland, Michael and Danielle Akey, a couple of free spirits,
randomly picked Wilmington, NC on the map and visited in the summer of
2007. The minute they set up their tent at Wilmington's KOA, they knew
they found their ideal destination, and when they learned that the
kampground was hiring, they knew they discovered their destiny. After
speaking with the KOA Manager, they were guaranteed full-time jobs at
the park if they decided to move to the area. Having no experience in
the kampground industry, they felt up to the challenge and said, "Why
not?" One month later they made the move, and nine months later, they
were surprised to become proud parents to their beautiful daughter,
Marley, as well as Wilmington KOA's on-site managers.
In their first year as managers, Wilmington KOA earned the President's
Award, and in their second year, they proudly earned both the
President's Award and Wilmington KOA's first Founders Award.
Michael and Danielle love every aspect of this business and take great
pride in their staff. They believe it takes great people to make great
kamping, and each of their staff members goes above and beyond to
ensure a memorable visit. "We want our guests to walk away feeling
that we care and that their needs have been met," says Danielle. "We
do whatever we can to make each visit the best it can be and to keep
our KOA clean and fun!"
Michael and Danielle are definitely in their element. On their days
off from the kampground, you can find Michael surfing the waves and
Danielle relaxing on the beach. And of course, every spare minute is
spent enjoying little Marley!