Reserve Now
Or Check Rates
Campground Amenities
Amenities Overview
Campground Amenities
50

Max Amp

65'

Max Length

Wi-Fi

Cable TV

Pool (5/24 - 9/3)

Propane ($)

Firewood ($)

Pavilion
Unique Amenities
A well Stocked Store
Designated Dog Walk area
Families
Heated Swimming Pool
Ice ($)
Kamping Kaboose
Level Drive-Through RV Sites
Motorcycle Clubs
Planned Activities Available
RV Clubs & Rallies
Campground Events
Listing
Calendar
Build Your Own Ice Cream Sundae!
May 9 - Oct 10, 2015, Every Weekend @ 7pm - 8pm
During the summer season when the kids are not in school, an ice cream social is held every Saturday from 7.00 Pm 8.00 Pm. For $2.50 you can build your own ice cream sundae! Choose from Hershey Chocolate or Hershey Creamy Vanilla ice cream, Hot Fudge or Carmel  topping, Whipped Cream, Sprinkles and Walnuts!! Its delicious! Enjoy your sundae around the Bonfire.
Read More
All You Can Eat Pancakes Every Sunday!
May 10 - Oct 11, 2015, Every Weekend
Don't forget our delicious; "all you can eat" pancake breakfasts every Sunday morning on our spacious sun deck. Adults are $4.50 and Children five years and under $3.00. Pancake Breakfasts are from 8.30 Am - 9.30 Am. This includes "all you can eat" Pancakes with Real Butter, Syrup, Orange Juice, Coffee, Hot Chocolate, Tea and Bacon too! So just sit back and relax in the fresh mountain air while we do the cooking!
Read More
Meet Your Hosts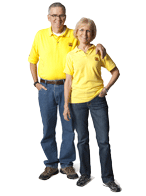 "Make a great memory with us in the pristine White Mountains!"
Barbara and Tyson Taylor thought they were ready to settle down and retire. But, we really missed customer contact. We bought an RV and were looking for the next campground to visit when we found the Campgrounds for Sale page on the KOA.com website. It sounded like a great fit for us; we had many hobbies over the years but camping in our RV has been the best, says Barbara.
The Taylors have been involved in various forms of business, from being corporate executives to small business owners. Their last business was a flight school with six airplanes and a team of instructors. Now, they own and operate the Twin Mountain NH KOA. We are a happy campground with smiles for everyone. Weve found campers to be the nicest folks and we really enjoy being around them! Each day, we try to provide the best stay possible for them, says Tyson.
We find we have life experiences in common with many campers. One camper, Mike, and I chatted for quite a while, swapping aviation stories and we became good friends, in fact he made a CD of airplane pictures for me from when he was an Air Force pilot. A week later on a return visit, I saw him coming up the walk to the office to register and I was able give him a big Welcome back, Mike! says Tyson. Being a campground owner is a very rewarding experience!