Reserve Now
Or Check Rates
Campground Amenities
Amenities Overview
Campground Amenities
50

Max Amp

90'

Max Length

Wi-Fi

Cable TV

Pool (5/24 - 9/28)

Pavilion
Unique Amenities
Families
Motorcycle Clubs
RV Clubs & Rallies
Campground Activities
RV Art Gallery
Visit the Nation's only Campground featuring an RV Art Gallery! Come and see the Texarkana KOA RV Art Gallery; a celebration of the RV Lifestyle. View the works of commissioned artists. Browse for a print reproduction or notecards, magnets, books, videos, calendars, jewelry, china, clothes and other unique collectibles that celebrate the RV Lifestyle! Items from $6.00 to $166.00.
Read More
Wildscape Trail
Are you ready for a walk on the wildside? Take the Texarkana KOA Wildscape Trail, a 20 minute stroll through the trees, meadows, creek and turtle cove pond of the campground. Marked by prominent blue diamond trail markers, learn about the trees, plants, birdhouses, turtles and ducks that inhabit the trail. See all 9 of the Tree Faces! Happy Trails to you!
Read More
Meet Your Hosts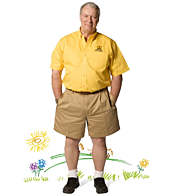 "Our customer service philosophy is to keep the campground easy, up-to-date and fun!"
Jerry Bergman has been the manager of the Texarkana KOA Kampground since the facility joined the KOA system in 2000.
"We saw the chance to convert our campground to the KOA system in 2000 as a great opportunity," said Jerry. "Winter Texans and summer vacationers looking for an overnight stay will love our easy access location and our full service as well as unique amenities."
Jerry's customer service philosophy is to keep his campground up to date, unique and fun!