Reserve Now
Or Check Rates
Meet Your Hosts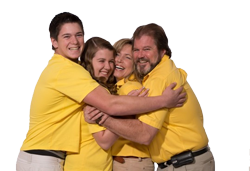 "Real freedom lies in camping. Stay with us and enjoy the freedom!"
We are working towards building a safe, relaxing and fun atmosphere for all our guests. We are now into our 3rd season after building a new facility and it will take us a few years to be where our vision is taking us.
We hope you enjoy our campgrounds as much as we enjoy having you!
We look forward to meeting you all and hope that you and the family will stop by and check out our camp grounds.
The Demers Family