Reserve Now
Or Check Rates
Campground Amenities
Amenities Overview
Campground Amenities
50

Max Amp

90'

Max Length

Wi-Fi ($)

Cable TV

Pool (5/24 - 10/15)

Hot Tub / Sauna

Snack Bar ($)

Propane ($)

Kamping Kitchen

Fishing

Mini Golf ($)

Firewood ($)

Pavilion

Bike Rentals ($)
Unique Amenities
Families
Gem Mining
Jumping PIllow
Laser Tag
Lil' Orbit Mini Donut Machine
Military Clubs
Motorcycle Clubs
Planned Activities Available
RV Clubs & Rallies
Tours
Campground Activities
Themed weekends are planned every weekend from April 25th thru October 15th. Wine and Cheese tasting from Memorial Day until Labor Day. Activities during the week are from June 15th to August 15th. Check our web shelbymansfieldkoa.com for indepth activity schedules.
View All Activities
Campground Events
Listing
Calendar
October 3rd 2014 Fright Fest Weekend
 A haunting weekend full of Halloween fun! Activities include: Pumpkin Painting, Trick or Treating, Spooky Crafts, Halloween Ceramics and Spooky/Horror Movies.  Big ghouls can face their fears by finding the way out of our haunted barn.  Haunted Barn proceeds go to KOA Care Camps.  Site decorating contest.   Two night minimum.   No RefundsDownload the details
Read More
October 10th 2014 Camper Appreciation & Hero Weekend
 CAMPER APPRECIATION  & [b]HERO WEEKEND[/b]  Were celebrating our heroes!! Sites and cabins will be 25% off of standard rates if you are a Firefighter, Police, Active Military, EMT, or Teacher.  Must present your ID for the discount.  We will roll out the red carpet to say Thank you for camping with us. If you have stayed with us one  night 10% off, 2 nights 20% off, 3 nights 30% off, 4 nights 40% off, and 5 nights 50% off for the 2014 season.  Maximum off is 50%.(campsites or cabins, must be same type of site).  One discount per site allowed.Download the details
Read More
Campground News
ARVC Medium Size Park of the Year Award
Shelby/Mansfield KOA Resort received the Medium Size Park of the Year Award for 2013/2014 at the arvc convention held in Knoxville, TN on Nov 7th.  This is the fourth time the campground has received the coveted award.
Read More
Meet Your Hosts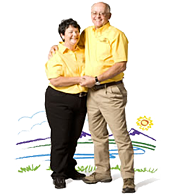 "We just love keeping the campers happy, and making sure that they enjoy their camping experience with us. Come and join our fun filled activities or enjoy one of our deluxe cabins."
The Shelby/Mansfield KOA is a Cole family tradition.
Garry and Vicki Cole purchased the campground in 1991 from Garry's family.
"We really wanted to keep the campground in the family," said Vicki. "We just love keeping the campers happy, and making sure that they enjoy their camping experience with us."
Before they became campground owners, Garry was a wastewater management consulting engineer, and Vicki taught band and choral music for 30 years.
When they aren't on the campground, the Coles will likely be attending sporting events, or spoiling their granddaughters.