Reserve Now
Or Check Rates
Meet Your Hosts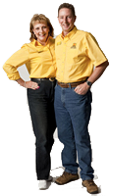 "We look forward to welcoming you to our piece of Paradise in beautiful Northern Ontario"
Bill and Joan Richard, along with their 4 Collies Indy, Macy, Breeze, and Chase are the proud new owners of the KOA in Sault Ste. Marie, Ontario as of Spring 2010!
Since 1992, Bill and Joan have been active RVer's and know what campers are looking for. Joan is an accredited Dog Groomer and also a trainer and competitor for Dog Sports, Agility and Obedience. Bill has been in the Aircraft Maintenance industry for 33 yrs on Civil and Military aircraft and a USAF Thunderbirds alumni.