Reserve Now
Or Check Rates
Campground Amenities
Amenities Overview
Campground Amenities
50

Max Amp

75'

Max Length

Wi-Fi

Cable TV

Pool (5/23 - 9/17)

Snack Bar ($)

Kamping Kitchen

Fishing

Firewood ($)

Pavilion

Bike Rentals ($)
Unique Amenities
Campground Activities
Come on down and join all the fun! Every weekend we run a fun filled activities program, from arts and crafts to ice cream social, family movie night and more so don't miss out. We only run our activities program during the weekend (Fri,Sat,Sun) during the weekday we don't have any activities program but we do have the new "KIDS LOUNGE" you can check out board games, Movies for the kids and family, free popcorn. We also have a wii station for the kids to play games. We also have a jump pillow (HOURS OF OPERATION VARY), playground, basketball, horse shoe, bag toss and more. For more information on our activities please feel free to call us at (800) 562 - 2486
Activities,Crafts,Games & More
Welcome to the Sandusky Bayshore KOA. We offer many excellent activities program on the weekend, Family Movie Nights, scavenger hunts, family oriented events, Arts & crafts, sports, handmade souvenirs to take home, Tie-Dye (on special weekends), Jump Pillow, Gem Mine, Bike Rentals, Black Light Game Room and much more! (Some crafts require a small additional cost so be sure to ask for a copy of our weekly activities list when you check-in. We only have activities going on during our weekend, during the weekday you can come in to our office and watch movies from our inventory, free popcorn, board games and more.
And when October hits its time for our "Haunted Hay Ride"
every weekend we offer spooky themed activities,movie night,Pumpkin painting,snack crafts you can eat ,hay ride and more,but make sure to be here on Saturday Night when our Hayride becomes "THE HAUNTED HAYRIDE" travel through the darkest parts of our campground to see what lurks in the dark....do you have....the guts?
Read More
Campground Events
Listing
Calendar
(Mothersday) Fairy Tale Weekend
Celebrate Mothers Day with us this season and see all the wonder and joy our fairy tale weekend can bring. Fun filled weekend packed with themed activities, family movie night, ice cream social, pancake breakfast (mom's eat 50% on mothers day) not to mention that we will be visited by the coolest princesses in the entire world!!!! That's right we have Anna and Elsa from the movie Frozen join us Saturday 5/9 5pm to 7pm. So make your reservations today.Download the details
Read More
Pancake Breakfast
Come on down to our Snack Shack and enjoy our fresh and fluffy pancakes! Our snack shack is located in our playground area and is open for breakfast from 8am to 10am Saturday and Sunday only. 
What is on the menu- ($4.50 a meal)
Pancake Breakfast Meal
x4 fluffy cakes
x3 bacon slices or x2 sausage patties
orange juice and coffee are included
Biscuits & Gravy Meal
x4 freshly baked biscuits smothered in sausage gravy
x3 bacon slices or x2 sausage patties
orange juice and coffee included
Scrambled Egg Meal:
Freshly scrambled eggs (about 4 eggs)
x3 bacon slices or x2 sausage patties
orange juice and coffee are included
Read More
Meet Your Hosts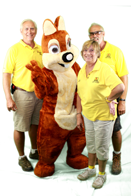 "You Bring The Family and We Will Bring The Fun"
Sandsuky/Bayshore KOA is operated by the Hoffman Family. The Hoffman's have been in the camping industry for over 40 years and since we became a KOA Campground only a couple seasons ago we have been loving it, the guest's make it worth it and makes it one of the most enjoyable jobs,the number one goal here at Sandusky/Bayshore KOA is to make all of our camping guests feel like part of the family.
We have added many new Amenities, Activities & Accommodations to make your camping experience one you will remember and talk about for years to come.Jump Pillow, Snack Shack, Gem Mine, Bike Rentals,Movie Night, Horse Shoes, Volley Ball, Corn Hole and much more! We hope to see you soon.