Reserve Now
Or Check Rates
Meet Your Hosts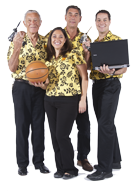 "We're gearing up for summer! This month we are adding more Deluxe Cabins and the first of our Boardwalk-style games."
Turn any corner at the San Diego Metro KOA Kampground, and you're likely to run into a member of the Bell family, hard at work to give you an extraordinary camping experience.
There are now three generations of Bells operating this 2013 KOA Campground of the Year. That's not surprising, since the campground has always been a family affair.Ted and Carol first built the campground in 1968 to help raise extra funds for college for their three children. For Ted, the campground is his life's passion. You'll probably catch him working on one of his continuous park improvement projects such as the beautiful landscaping you'll find throughout the campground. Son Mike joined the family campground business in 1975 after he finished college.  He loves serving guests at Sunday morning Pancake Breakfasts and has flipped 350,000 pancakes to date!  
Today youll also find the third generation greeting guests and helping campers make lasting memories at the campground.  Look for Mollys never-ending smile at the Flashlight Lollipop  Hunts this summer or another of the special activities she has planned for you.  Guests love hearing Clints radio-voice as he delivers firewood or checks them into their sites.  When they arent at the campground the Bell family loves to go hiking, go to the beach, volunteer in community organizations, gather for family dinners, and teach the fourth generation the joys of camping.
From The Bell Family to Your FamilyHappy Camping!