Reserve Now
Or Check Rates
Meet Your Hosts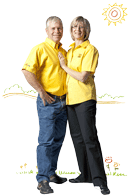 "Gary and Lori say, " When people come to our West Chester campground, we want them to engage in camping, participate in fun activities together, and relax.""
On the outside, their careers were glamorous and ambitious. On the inside, the Levesques were ready to leave the fast track of the corporate world, be their own boss, and raise their children without daycare. 
Gary and Lori Levesque bought their KOA campground in 1991 but not before getting a heavy dosage of company life. Lori worked as a system analyst for a large mortgage company, and Gary worked on structural dynamics in the aeronautical industry. Their careers began to require more and more travel, and Gary's company struggled with layoffs. "It wasn't fun to go to work," he said.
His parents were the first to come upon the idea of owning a campground. Gary's family did a lot of camping when he was growing up. "My mom was set on the idea of buying a campground," Gary said. "Originally I thought it would be going backwards, but we ended up buying it."
The Levesques were attracted to the campground setting and area and are still proud to offer it to campers today. "It is on the Brandywine River in a beautiful and quiet area known for being horse country," Gary said. "It is full of rolling hills and is peaceful."
After 25 seasons of camping, they continue to build a wonderful camper clientele and provide fun and engaging camper activities. Their three children are all grown up and are currently following their own adventures.
In their spare time, the couple still likes to camp and go to the beach. Gary is a Flyers fan, while Lori is writing a book. They volunteer in many different capacities, in their community and church, and in their off season they love to visit family, travel, and explore the many awesome places that exist in the United States and beyond.