Reserve Now
Or Check Rates
Meet Your Hosts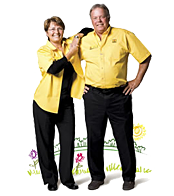 "Hey campers, we've taken our lodging to a new level! Come in and take a look at our Deluxe Cabins with screen rooms!"
"Known as the friendliest campground in South Florida, we love to welcome new guests! Our staff and seasonal residents are quick to introduce themselves and include new campers in activities," says Ted Mangels, manager of the Naples/Marco Island, Florida KOA.
Ted goes on to say, "I want our guests to feel like old friends. We are excited to welcome them to our home and want them to be as comfortable as possible during their stay with us. We bend over backwards to help in any way we can to make their stay a memorable one."
Ted's attention to his guests and his campground were recognized by the entire KOA system, when he was awarded the 2008 Company Owned Properties Manager of the Year award.
Before becoming a campground manager, Ted worked as the vice president of Sales for a prominent contract manufacturing company. Anita, his wife, also worked in sales for a manufacturer of circuit boards. They agreed on two things: they wanted out of the manufacturing business and out of the cold Minnesota climate.
So, in 2004, they packed their tent and hit the road for four months of traveling around the country, often staying at KOA Kampgrounds because they could count on the consistently high quality and cleanliness.
"You just can't beat camping for meeting wonderful people" says Ted. "And traveling in a tent keeps one in touch with the simpler side of things. We had plenty of opportunities to talk to the work campers along the way and decided the campground business was just what we were looking for. One of our stops along the journey was the Naples/Marco Island KOA, and the rest is history, as they say!"
Ted and Anita still pursue the things they love most, which include saltwater fishing, day trips to the beach for sun and shelling, traveling, sketching and photography, interesting new restaurants and getting together with friends and family.