Reserve Now
Or Check Rates
Campground Amenities
Amenities Overview
Campground Amenities
50

Max Amp

70'

Max Length

Wi-Fi

Pool (5/22 - 9/13)

Snack Bar ($)

Propane ($)

Kamping Kitchen

Firewood ($)

Pavilion

Bike Rentals ($)
Unique Amenities
ADA Family Restroom
ADA Kamping Kottage
Basketball
Fun Cycle Rentals ($)
Horseshoes
Large Playground
Planned Activities
Sand Volleyball
Campground Activities
Spring, Summer and Fall, there is always something fun to do at our Lena KOA. We have planned activities for children and adults alike that include games, crafts, ice cream socials, movies, wine tastings, live music and much more. Our themed weekend events begin in May and run throughout the rest of our season. Our friendly staff at the front desk can provide you with all the information about specific activities available during your stay.
View All Activities
Campground News
Lena KOA wins major award.
The Lena KOA Campground has been awarded the 2015 KOA Founder's Award by Kampgrounds of America Inc. The KOA Founder's Award is KOA's highest service award and is given to those campgrounds that attain world class service scores from their camping guests.
Read More
Lena KOA wins major award.
The Lena KOA has been awarded the 2015 President's Award by Kampgrounds of America, Inc. The KOA President's Award is awarded to KOA's that meet exceptional quality standards and are recognized by their guests for outstanding service.
Read More
Meet Your Hosts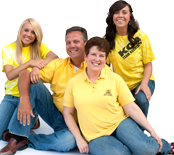 "Our #1 priority is to provide the best camping experience possible. Our camping guests are treated like friends and family"
Joe and Diane Long purchased the Lena KOA campground in 2006. Prior to owning the campground, Joe was an administrator for a suburban park and recreation district and Diane was a practice manager for a very large software company. When they were searching for a campground to purchase, they were thrilled when the Lena KOA became available. The campground had long been a family favorite and was the "Perfect Fit".
Joe and Diane take pride in the campground cleanliness, the family-oriented nature of their KOA, and in providing campers with the best camping experience possible. "This is the kind of campground we want our campers to feel is worth making it back to again and again" said Joe. The returning campers attest to their excellent customer service. The Long family treats campers as they would like to be treated, like they are guests in our home.
In their spare time, Joe enjoys music and sports, while Diane dabbles into sewing, quilting and embroidery work. Their daughters Allie and Kaley enjoy the campground atmosphere and its recreational activities. They believe that the Lena KOA is a great place for kids to make friends.
Since Joe and Diane purchased the campground, they have been in the Top 10 KOA Kampgrounds based on Kamper Satisfaction Survey scores. In 2009, they were awarded KOA's "Rising Star" award and had the highest camper satisfaction score of any KOA.