Reserve Now
Or Check Rates
Campground Amenities
Amenities Overview
Campground Amenities
50

Max Amp

80'

Max Length

Wi-Fi

Cable TV

Pool (Open Year-Round)

Hot Tub / Sauna

Propane ($)

Fishing

Firewood ($)

Pavilion

Bike Rentals ($)
Unique Amenities
All sites have sewer.
Basketball and Tennis court.
Community fireplace.
Community stage with bleachers.
Deluxe Cabins.
Horseshoe pits.
RV Sites
Sand volleyball court.
Shuffleboard courts.
Tent Sites.
Two laundry rooms.
Campground Events
Listing
Calendar
Upcoming Calendar
Apr 25, 2013 - Apr 1, 2023
Read More
Campground News
Meet Your Hosts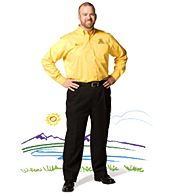 "Bring the kids and start a family tradition with us. Call us at (936) 582-1200 to make a reservation."
After serving in the nuclear engineering department of the US Navy, Aaron B. Williamson decided to switch from an aircraft carrier to a land yacht. He and his family toured the western US for three years, taking in all the natural beauty and adventure they found. Along the way, they joined the KOA family. "Working with KOA allows us the opportunity to live the life of our dreams and see more of the country than we ever thought possible," says Aaron.
Aaron firmly believes in the KOA theme of Great People. Great Camping. "Our customers are here to relax and unwind and we want to do all we can to make their stay great through exceptional customer service. Teamwork is an integral part of every campground, and we are proud of our helpful, friendly staff."
"First impressions of the campground's appearance, facility and amenities are vitally important. Tennis courts, BBQ pavilion, wading pool, hot tub and indoor pool, lighted gazebo, paddle boats and banana bikes - these are just some of our exceptional activities and amenities. We truly have something for everyone."
In addition to a great camping experience, guests can shop, visit galleries and museums, dine in style and see one-of-a-kind Lake Conroe tourist attractions. The historical charm of Montgomery County and the natural beauty of Lake Conroe are all at your fingertips during your stay at the Lake Conroe KOA. Located in Montgomery, Texas, the state's third-oldest town and the birthplace of the Lone Star flag, camping near Lake Conroe has never been more convenient.
When not "Making it Great" for customers, Aaron can be found with his wife and four children exploring the area and hiking, fishing, hunting, and enlarging his photography gallery, as well as grilling a mean steak for friends and family. Aaron currently serves as a District Chairman for The Boy Scouts of America, as President of The Historic Montgomery Business Association, as a Board Member of Montgomery United, as well as being active in his local Church.