Reserve Now
Or Check Rates
Meet Your Hosts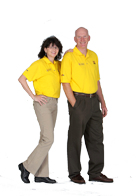 "We are campers ourselves, we love camping, and we work hard to provide you a safe, fun, and peaceful time while you make great family memories."
We love being campground owners because we get a chance to be with other campers everyday that are here to have fun, relax, and enjoy the peace that our campground offers. We have always enjoyed camping and hope you will have a great time here with us at Honesdale/Pocono KOA.
Tim is from Pennsylvania,and decided that office politics is a thing of the past! He always wanted to have a campground and asked Debby if she could see that vision after one year of marriage. Debby never camped until she met Tim and asked "You want me to cook in where?" in reference to their 24 foot, no slide out RV. What a long way the campers have come! Debby is from Massachusetts, moved south to get warm, and how did we end up in North East Pennsylvania again?
Truthfully, the Pocono's are a great place to be and you get four full seasons each year. Very cold and snowy winters to hot, sunny, summer days. We loved this campground on sight and hope you will join us in that love.
We know that you have many choices as to where you camp and hope that you choose us, Honesdale/Pocono KOA when you plan your next trip.
Tim & Debby