Reserve Now
Or Check Rates
Campground Amenities
Amenities Overview
Campground Amenities
50

Max Amp

80'

Max Length

Wi-Fi

Cable TV

Pool (5/31 - 9/15)

Hot Tub / Sauna

Propane ($)

Firewood ($)

Bike Rentals ($)
Unique Amenities
Planned Activities Available
Campground Activities
Horeshoes anyone?
We offer fun in the front yard of our KOA. Horseshoes are a hit with everyone.
Read More
Meet Your Hosts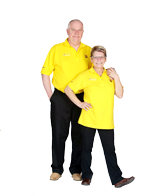 "Get ready for next season and make your reservations anytime now."
The Hardin KOA is one of the very first campgrounds from KOA's early days of the 1960's. Since 1968, the campground has had just four owners. The current proprietors Dave and Gina Trzebiatowski.
Wow, we have one summer down and it was a great one!!! Friends from our hometown came out to visit as well of some of our family. We enjoyed them so much. Have made many new friends this year from all over the country and other countries.
"We are small, but we're very friendly and eager to please," says the Dave and Gina. We have trees in all the right spots! Shade trees really count in June, when the Campground fills up during the annual Little Bighorn Days, as spectators and participants enjoy the reenactment of the Battle of the Little Bighorn in Hardin.
Gina loves to clean and add her special touch to things and, it shows! Before becoming KOA Campground owners, Gina was a teachers aide for 18 years for special needs children. Gina loves people, children, and being outside.
Dave loves people, he loves cutting the grass, and being outside. Dave was a maintenance superintendent for 26 years before he retired and launched his KOA career.

Dave and Gina are avid campers and enjoy traveling in their motor home when not over seeing the operation's at the Hardin KOA.