Reserve Now
Or Check Rates
Meet Your Hosts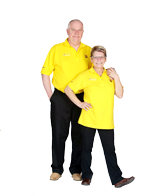 "Get ready for next season and make your reservations anytime now."
The Hardin KOA is one of the very first campgrounds from KOA's early days of the 1960's. Since 1968, the campground has had just four owners. The current proprietors Dave and Gina Trzebiatowski.
Wow, we are staring our third camping season. We have a fresh new look to our main building. We all worked hard last fall to paint the office building. The Rainbow Girls painted the gazebo and play house. That was a super help!! This is an ongoing project but looks nice when completed. Bear with us as we continue to make things comfortable while camping in our KOA in Hardin,MT.
"We are small, but we're very friendly and eager to please," says the Dave and Gina. We have trees in all the right spots! Shade trees really count in June, when the Campground fills up during the annual Little Bighorn Days, as spectators and participants enjoy the reenactment of the Battle of the Little Bighorn in Hardin.
Gina is really getting a handle on the unique gift store. She loves going to shows and ordering all kinds of new and unusual local items for sale. Our hottest item is from the Prairie Soap Co. We have men's and ladies Buffalo tallow lotions and soaps. The men's soaps are made from beer. Yes, I said BEER! It's a real hit. Before becoming KOA Campground owners, Gina was a teachers aide for 18 years for special needs children. Gina loves people, children, and being outside.
Dave was a maintenance superintendent for 26 years before he retired and launched his KOA career. Dave is very busy doing many improvements to the campground. Not to mention the Hail storm damage this spring. It is hard to track him down and chat. Everyone here works so hard to keep our home safe and clean. We have a great staff!
Dave and Gina are avid campers and enjoy traveling in their motor home when not over seeing the operation's at the Hardin KOA. Come visit us at Hardin. We have a wonderful big yard to play in. :)
"We do what we love and love what we do," says Gina and Dave.