Reserve Now
Or Check Rates
Meet Your Hosts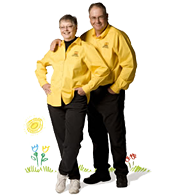 "The scenery is quaint, and there are lots of trees surrounding the individual RV sites."
"I was too old for a new boss and too young to retire," Glenn Klinkman always said to his wife, Catherine. After leaving corporate America behind, the couple fulfilled their dreams of owning a campground when they purchased one in Casey, Illinois.
Catherine spoke about wanting a campground between Pennsylvania and the Mississippi River, but also between Florida and Michigan, so when they found their KOA in Illinois they knew it was the one for them. "We are proud of the whole thing," said Catherine of her KOA. The looks and the renovations were also notably mentioned. Catherine said the pool was re-done, as well as the deck and the fences surrounding the pool, and the main lodge was re-sided. Upgrading sites has been on the list of to-do restorations, and the process is nearly complete.
"The scenery is quaint, and there are lots of trees surrounding the individual sites. Because the town of Casey is historical, visitors are able to experience museums and antique shops. They have lots of repeat customers, and the Klinkmans continue to encourage people to come back. "We want them to be happy when they are here," said Catherine. They said they try to treat each customer equally and provide them with what they need. Employees are given the freedom to solve whatever problems arise and encouraged to keep in mind the best interests of the customers.
During spare moments, Catherine enjoys needlepoint and cross-stitching. Glenn loves computers and spends as much time as possible working with them. The couple also loves to travel to Michigan to see their children and grandchildren.