Reserve Now
Or Check Rates
Campground Amenities
Amenities Overview
Campground Amenities
50

Max Amp

75'

Max Length

Wi-Fi

Cable TV

Pool (4/6 - 10/15)

Snack Bar ($)

Propane ($)

Firewood ($)

Pavilion

Bike Rentals ($)
Unique Amenities
Catering on-site
Horse Hotel
Military Clubs
Planned Activities Available
RV Clubs & Rallies
Campground Activities
Game Night!
Bring your family to our "Big Room" for your favorite games on Tuesday nights. From Wizard to Joker to Apples to Apples, we play it all! Learn a new game, play an old favorite or better yet, bring a game to teach the rest of the group Bring your competitive spirit!
Read More
Meet Your Hosts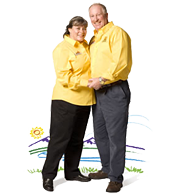 "Our staff is dedicated to making the campers experience memorable, says Scott."
When Scott & Susan Bacher decide to make a big change in their lives they hold nothing back.
Coming from a real estate background, Susan, and an electrical contractor, Scott, owning a campground definitely fits the Bacher's perfectly. "After searching for over a year and a half for that perfect campground, we found it," says Susan, "we packed our belongings and moved to New Mexico to take over the campground."
Operating the campground has been a fun experience and campers will be able to tell by their genuine smiles and great attitudes.
"We were lucky to come into a campground that was already had great amenities," says Susan, "and we are having a great time making new additions to keep our campers excited to return". New additions include upgrades to their camp store, expanded menu to the café and Kamping Lodges.
One area that needed no upgrades was their staff. Customer service is a major priority and it really shows throughout their whole staff.
"Our staff is dedicated to making the campers experience memorable," says Scott, "everyone enjoys the camping lifestyle and works hard to make sure each camper has a great experience here."
Even though they plan on being busy during the busy camping season, in their spare time, Susan and Scott love outdoor activities. Some of their favorites include RVing, camping, boating and reading.
Also before leaving the campground take time to stop and pet our campground dog. Abby, a sweet-natured bull mastiff, loves her customer service job of greeting each camper and making everyone feel welcome.