Reserve Now
Or Check Rates
Campground Amenities
Amenities Overview
Campground Amenities
50

Max Amp

90'

Max Length

Wi-Fi

Pool (6/5 - 9/10)

Snack Bar ($)

Propane ($)

Fishing

Mini Golf ($)

Firewood ($)

Pavilion

Bike Rentals ($)
Unique Amenities
Families
Military Clubs
Motorcycle Clubs
Planned Activities Available
RV Clubs & Rallies
Tours
Campground News
SEASONAL 6 MONTH SITES STILL AVAILABLE
Our peaceful, private, secure, and full service seasonal sites are not yet full. With a limited number of seasonal sites, they normally fill by Feb. 1. A few sites are still open, so call with your plans and questions. An easy one-price cost covers all expenses, such as electric, town water, direct sewer, grass cutting, patio, trash disposal, night security, enforcement of campground rules, etc. We serve many who look for a special place to spend their summers while living south for the winter months.
Just call us at 585-398-3582. or email us at koacanan@frontiernet.net.
Read More
December 2013 KOA News
What a great 2013 season! Despite the wet start in the spring, the summer and fall numbers made up for it. We are very thankful to all of our campers and will never forget that our success is due to our wonderful campers. Our focus will always be on customer service and their experiences. Even the two October Halloween weekends were well attended. We also earned again the top KOA Founder Award
Many of the improvements for 2013 were right on, especially the new air conditioners in all the cabins.
Plans for 2014 include expanding electric to 5 more big tent sites, more patios, new trail, new lodge, new airconditioner for main building, and lots of maintenance. Seasonal sites are almost full. Just two open sites left.
I am delighted to announce our staffing for 2014 - Sue & Ray Morse, and Glen & Deloris Hungerford are returning. Our new couple is not so new. Holly & Carl Koring have joined our team as full time workercampers from part time workers in 2013.
HAPPY HOLIDAYS, Victor
Read More
Meet Your Hosts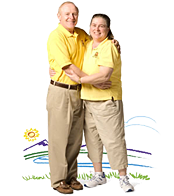 "All employees are trained to understand the importance of teamwork, fun, and fellowship," says Victor."
For Victor and Kathleen Arsenault and their family, there was hardly a time when KOA campgrounds weren't a part of their lives. Victor was hired to build and manage a KOA campground 36 years ago and, although he took a brief job (28 years) as a director with the Boy Scouts of America, he always knew he wanted to return. Kathleen, at the time a high-school teacher, supported the decision to purchase the Canandaigua KOA. She thought that raising her family, while working a fun job, was too good to pass up. "We take pride in living on the campground," says Victor, "we want to be part of the action."
Victor and Kathleen encourage anyone, with every kind of camping ability, to come and visit. One special feature of the campground is that the cabins, kottages, tent sites, and RV sites are next to each other or nearby so people with different camping needs can camp together.
Victor and Kathleen rely on their mission statement to encourage great service: "To provide quality services in a safe, secure and clean outdoor environment that will result in a fun-filled camping experience for the entire camping family." They said their bottom line is to have fun and provide excellent service. "All employees are trained to understand the importance of teamwork, fun, and fellowship that will quickly deliver quality service," says Victor.
The campground caters to many different kinds of people, and the people returning each year is proof enough that they will continue to have more. "We enjoy providing a quality campground to many people who are enjoying touring this great country," Victor said.