Reserve Now
Or Check Rates
Meet Your Hosts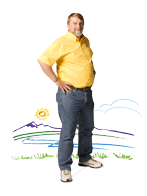 "Any day of camping is better than a good day at work"
Hi my name is Brian Goddard and I want to welcome you to Washington D.C./ Capitol KOA Campground. Whether you are looking for a busy day of sightseeing in Washington D.C. or a fun weekend camping trip, you have come to the right place. I always refer to our campground as a "quiet little country campground in the middle of nowhere 20 minutes from everywhere". The campground is located just 20 minutes from Baltimore Inner Harbor, 20 minutes from Downtown Annapolis, home of the United States Naval Academy and 20 minutes from the Metro stop to Washington D.C., our nations capitol. Check out the area tours leaving daily from the campground.
away from the hustle and bustle of your life, then spend the weekend at our campground. Enjoy the outdoor swimming pool, outdoor pool table, giant chess set, basketball court and fun cycles. And what the kids of all ages seem to love the most is our giant juming pillow and dont forget the free ice cream socials on Saturday night during the summer.Friday and saturday night we have free movies.
So whatever your pleasure might be, come on out and enjoy yourself. You deserve it, come on, you know you deserve it. We look forward to seeing you. We will try to convince the birds to sing quietly so as not to disturb your afternoon nap.
Enjoy