Reserve Now
Or Check Rates
Campground Amenities
Amenities Overview
Campground Amenities
50

Max Amp

80'

Max Length

Wi-Fi

Cable TV

Pool (5/11 - 9/3)

Snack Bar ($)

Propane ($)

Kamping Kitchen

Mini Golf ($)

Firewood ($)

Pavilion
Unique Amenities
Campground Activities
Planned weekend activities are from Memorial Day weekend to Labor Day weekend.
View All Activities
Campground Events
Listing
Calendar
Outdoor Heated Pool Opens May 22, 2014
Our Outdoor Heated Pool opens for the summer on May 22, 2014 (and closes September 2). Pool Hours: Adult Swim 9-10 a.m.; Family swim 10 a.m. to 9 pm daily. No Life Guard on Duty. No swimming alone and no child under the age of 14 is allowed to swim without an adult in the pool area.
Read More
Meet Your Hosts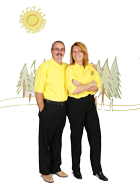 "Thank you for a great 2013 camping season! See you next year."
John and Debbie Schuettler had always dreamed of owning their own campground. They were lifelong campers, having progressed from a popup trailer to a fifth wheel over the years.
In 2001, they decided life was just too short not to enjoy what you do for a living, and they purchased the Wapakoneta KOA.
"Customer service is Number One with us," says Debbie. "We treat all of our customers like we would like to be treated - with a welcoming 'hello' and a smile."
In their "pre-KOA" lives, John was a universal grinder operator for 24 years, while Debbie worked as a secretarial supervisor for a law firm for 15 years.
Now, their lives center around getting to know their campers and making their camping experiences memorable.
"We are interested in their travels - where they come from and where they are heading," said Debbie. "Since we are located on a north/south route, we have a lot of overnight camping business. Regardless if you are just passing through, or come for a weekend, or become a seasonal, we want to build a friendship with each and every camper."
"We hope your travels take you through our area. We would love to see you!"