Reserve Now
Or Check Rates
Meet Your Hosts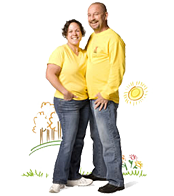 "We are looking forward to having you as our guest. Join our activities or relax by the lake and have a wonderful time."
When they left their careers and became campground owners in 1997, Ed and Jennifer Ross really weren't that far off from their original career path. Jennifer worked for the national park services, while Ed was in active duty in the Navy. "It was no big switch," Jennifer said.
Jennifer's parents purchased the St. Augustine KOA in 1995, and for two years the young couple would leave work every Friday afternoon in New York and drive straight through to Florida to help her parents in the campground. After working the weekend, they would get in their car late Sunday night and drive back to New York just in time to go to work. "We learned how to run the business," she said.
Their sacrifice paid off when two years later Jennifer's parents bought another KOA campground, and Ed and Jennifer took ownership of the St. Augustine Beach KOA.
Jennifer grew up camping when her parents bought an RV when she was five years old. "I've never been without one since," she said.
Jennifer said the couple has worked hard to make improvements to the campground but feels their staff's friendliness is the best part of the campground business. "They make people feel as comfortable and happy as possible," she said. "We offer as much as we can."
In their spare time they enjoy traveling, and Ed is a golfer and scuba diver, while Jennifer enjoys rubber art stamping.