Reserve Now
Or Check Rates
Meet Your Hosts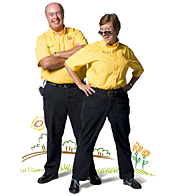 "Welcome to our island, a great place to stay and play!"
For more than 17 years, Tom and Stacie Brooks have been enjoying a wonderful ride with Kampgrounds of America and all that the organization has to offer.
These high school sweethearts from north Georgia began their careers in the outdoor hospitality industry entertaining vacationers on cruise ships. They tried "real life" (computer jobs, etc.) briefly, but knew they wanted to continue working together in the business of fun. "We saw an ad in the Orlando paper about manager trainee opportunities at KOA, and the rest is history!" says Stacie.
Tom and Stacie have been on the move managing KOA Kampgrounds from the Pacific to the Atlantic and from New England to the Florida Keys, with a few stops in between. The Brooks' currently manage South Padre Island KOA, and they excel as campground hosts. "We remember that first and foremost the camper is here to have fun," says Tom. "We do whatever we can to ease their worries and provide relaxation and enjoyment."
Campers notice the efforts of Tom, Stacie and their staff. A recent comment card read, "We wanted to let you know what a fine job this park and the staff do for us. We are here for our third winter because of the cleanliness of the facilities, the many kindnesses of the staff, and the great activities."
When not putting their time and energy into the campground, Tom and Stacie love to travel and have visited more than 50 countries. Tom also likes to play the guitar and harmonica, while Stacie is a ventriloquist, enjoys Zumba, and is a TIVO Master.