Reserve Now
Or Check Rates
Campground Amenities
Amenities Overview
Campground Amenities
50

Max Amp

110'

Max Length

Wi-Fi

Cable TV

Propane ($)

Kamping Kitchen

Firewood ($)
Unique Amenities
50 Amp Service Sites
Access to Dunes
Arcade Room
Camping Cabins
Deluxe Cabins
Group Tent Sites
Horseshoes
Laundry $
Pet Playground
Planned Activities Available
Unique Gift Store
Campground Activities
Unless noted, activities listed are scheduled from Memorial Day to Labor Day.
View All Activities
Campground News
Don't Ruin Your Vacation - Check out safety laws and sound limits!
New safety laws are now in effect for operating quads and three-wheel ATVs (Class I ATVs) and off-road motorcycles (Class III ATVs) on lands open to public use. As of January 1, 2012 NEW HANDS ON TRAINING FOR ALL 15 AND UNDER RIDERS IS REQUIRED! Please visit oregonduneskoa.com and check out our webpage dedicated to current rules and regulations!
We now can sound check your vehicle. Please do not bring any machine that cannot pass the 93 dec. limit for the Oregon Dunes National Recreation Area. Machines that do not pass sound check will not be allowed to ride in and out of Oregon Dunes KOA. PLEASE HELP US KEEP THE DUNES OPEN BY BRINGING STOCK PIPES FOR OUR DUNES. THANK YOU.
Read More
Meet Your Hosts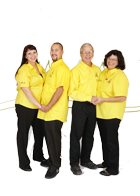 "Campers may be tired when they get here and enter our office, but they'll be smiling when they leave!"
The first thing you'll notice when you pull into the Oregon Dunes KOA Kampground is sand . . . and plenty of it.
But it won't take you long to see that this unique KOA Kampground has much more to offer than just great access to miles and miles of sand dunes along the beautiful Oregon coast.
"Campers may be tired when they get here and enter our office," said Kathy Gross, "But they will be smiling when they leave."
Owning a KOA campground was a retirement dream for the Gross family. But after spending more than 1,000 hours on heavy equipment moving sand when they built the campground in 1995, it fast became apparent that this would be a full-time "hobby."
"We're still building," said Kathy. "We sure aren't done yet!"
You'll likely see a lot of familiar faces on your return visits to this KOA, since it has one of the highest rates of return campers in the KOA system.
When they do find time for other interests, you'll find Fritz tinkering with old tractors and military vehicles, while Kathy will likely be riding her Arabian horse or working in her glass studio.