Reserve Now
Or Check Rates
Meet Your Hosts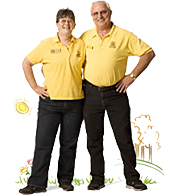 "Come and stay with us: we will work hard to make your visit Great."
Denny and Kathy Marek have never been ones to let the grass grow under their feet. A paramedic and firefighter, Denny had also owned his own construction business. Kathy owned a dog grooming business, was a bridge tender and worked for the local sheriff's department.
So, it is unsurprising that this enterprising couple didn't want to slow down after they retired from their busy careers.
"We decided to get into the campground business so that we could stay busy and active after retirement," Denny said. "And we have a love for people and camping."
"This is a great campground. It is so beautiful and well-maintained," Kathy said. "And we're proud of some of the changes that we have made in the short time we have been here. We've made it even more family-friendly."
In their free time, the Mareks love spending time with family, enjoying their animals, reading and gardening.