Reserve Now
Or Check Rates
Meet Your Hosts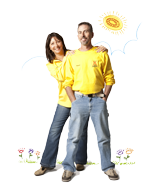 "Our goal is to have happy campers, and to visit with everyone. We get great ideas from our campers - after all, they are the experts!"
After traveling to many places around the world, Kathy and Stuart Marshall realized that they havent seen most of their wonderful country, so they decided to buy a small RV and see the United States. They took their maiden voyage in May of 2006 to the KOA in Mount Rushmore when Kathy said, We should buy a campground!
Stuart, a renovation contractor and Kathy, an IT professional in Boulder, Colorado started dreaming about the idea of owning a campground and began the search process. In November of 2006 they were the proud owners of the Montpelier Creek KOA.
This 40 year old campground was perfect for us said Kathy. It is located in a beautiful lush valley halfway between Salt Lake City and Yellowstone National Park and was in need of Stuarts magical TLC. This has truly been a labor of love for both of us.
Over the last nine years, The Marshall's have improved the campground with beautiful tile bathrooms, creating large-rig friendly campsites, upgrading the electrical system, adding cable and lodges, and much more. I love it when campers ask me if this is a new KOA, says Stuart.
What we love most though, are our campers. We have a huge following of repeat campers, some that have been coming here for over 20 years especially during hunting season states Kathy. It is really cool seeing several generations of a family enjoying themselves in our campground. Creating family memories that last a lifetime, and we are thrilled to be a part of that.
Our goal is to have happy campers, and we do this by trying to visit with every camper whether it is Kathy, our work campers, or myself, at their campsite or around the park we want to talk to everyone. We get great ideas from our campers that help us to continuously improve our campground; after all, they are the camping experts!
During the off-season, Kathy and Stuart head to Florida to escape the snow and cold weather where they enjoy renovating their lake house, kayaking, biking, relaxing and dreaming of what they can do next to improve the campground!