Reserve Now
Or Check Rates
Campground Amenities
Amenities Overview
Campground Amenities
50

Max Amp

85'

Max Length

Wi-Fi

Pool (5/31 - 9/8)

Propane ($)

Fishing

Mini Golf

Firewood ($)

Pavilion
Campground Activities
Activities listed below are open from Memorial Day to Labor Day
Train rides for the kiddies!
All aboard! Train's a'leavin! Every Saturday at 11am, 1pm, & 3pm the train leaves the station (by the front office; weather permitting)
Read More
Campground Events
Listing
Calendar
Halloween Spooktacular 3 (10/31-11/1)
Come enjoy family friendly Halloween fun, with pumpkin decorating classes & contests. Two pumpkin contests ages 11& younger and 12 & older. Costume contests, 7 & younger, 8-15, 16 & older, and of course a category for our four legged family members! Come vote for your favorite ghost or goblins! Trick-or treating in the campground on Saturday. Site decorating contest, winner determined by popular vote - free camping to the winner! And everyone's favorite - our haunted hay rides! We fill up every year, so book early and join the fun!!!
Read More
Mountain Masochist Trail Run 50 miler
Course: Beginning at Lynchburg KOA Campground, runners loop the camp lake and cover a short road section before entering National Forest land. The course then meanders northward over various dirt and gravel roads in the National Forrest before runners have to negotiate the second half of the course. Leaving Long Mountain aid station, the second half includes dirt & old logging roads as well as several miles of beautiful single track trail. Many say the race is just beginning when you leave Long Mtn. Upon reaching the last aid station at Porters Ridge, runners course downhill 2.9 miles toward the finish in Montebello. The entire MMTR course traverses some of the most beautiful areas of the Blue Ridge right around peak fall foliage.
Read More
Meet Your Hosts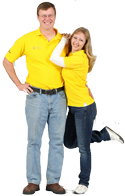 "Camping is best when shared with Friends and Family!"
We wanted a lifestyle change when we left our IT careers to buy a campground and we definitely got it.  We know it's hard to believe someone could give up rushing out of the house every morning to fight rush hour traffic, and then spending the rest of the day in an office but we did.  And, we're trying to make the best of it...  All kidding aside, as lifelong campers it's a dream come true to own and operate a campground.  Our goal is to provide a quality camping experience where our customers always feel welcome to kick up their feet and relax.  When was the last time you spent some real quality time with your friends and Family?  Has it been too long?  The Blue Ridge Mountains of Virginia are calling you...  We'll save a spot by the campfire for you!