Reserve Now
Or Check Rates
Campground Amenities
Amenities Overview
Campground Amenities
100

Max Amp

70'

Max Length

Wi-Fi

Cable TV

Pool (5/1 - 9/15)

Propane ($)

Firewood ($)

Pavilion
Unique Amenities
Discounted Attraction Tickets
Game Room w/pool table
Groceries/Souvenirs
Group Rates Available
Hiking Trails
Horseshoes & Cornhole
Laundry Facility
Recycling Depot
Separate Tenting Area
Sewer
Tether ball (no charge)
Visitor parking lots available
Wooded/Shaded Sites
Campground Activities
Please ask about our family fun KOA directed activities on Fridays and Saturdays from Memorial weekend until Labor day. These activities could include egg toss, tie-dye T-shirts, mini marshmallow battles, mini marshmallow shoot'n gallery, parachutes games, etc. Self directed games could include, frisbee golf, gemstone panning, outdoor bowling, horseshoes, cornhole/beanbags, tetherball, etc.
View All Activities
Campground Events
Listing
Calendar
Wags to Witches Halloween Pet Parade
Join us for the Wags to Witches Pet Parade weekend October 9th thru October 11th 2015. Dress up you favorite furry, scaly, feathered, or prickly friend and join us in our Halloween themed parade. We'll also have all the KOA directed family activities to keep the non-pet individuals from barking out loud.
Read More
Halloween Spooktacular - October 16-17 & 23-24, 2015
Campers agree that these are the Halloween events not to miss! Join us for a ghostly good time during our Halloween weekends October 16th & 17th and 23th & 24th, 2015. Dress up in your favorite costumes and enter our costume contests and go trick-or-treating on the grounds. Come get the wits scared out of you at our 8th annual Haunted Forest . See why the competition is so "intense" during the site decorating contest. Decorate your campsite and pets to win a hauntingly ghoulish prize! We still are having all the KOA directed activities that you have loved for years. Check out our video in the Videos Tab. It just keeps getting bigger and better every year.Download the details
Read More
Campground News
Plan ahead for our "Spooktacular Weekends" October 2015
See why everyone makes plans early. We have been doing this for years and it just keeps getting better. We have trick or treating ( for the young ones and the older ones), the amazing haunted forest, site decorating contests, costume decorating contests (including pets), and much more. Join us for all the fun KOA directed activities (Tie-Dye T-shirts,egg toss, mini marshmallow shooter shooting gallery, etc.) Please note we have added a second weekend last year (2014), so we can share the good times even more. Weekend dates are October 16th & 17th and October 23th & 24th 2015. See some of the fun in the videos tab on our website.
Read More
After hours check-ins
Many folks will arrive after normal business hours, therefore if you show up and the office is closed proceed to the night registration box ( just to the left of the front door). If you have an existing RV or tent reservation your map ( with your name on it ) will be located at the night registration box. If you have an existing cabin reservation your map ( with your name on it and a key ) will be located at the night registration box. If you don't have a existing reservation, read the directions located at the night registration on how to find an available RV or tent sites in the campground. Cabins are not available after normal business hours. Call campground for normal business hours.
Read More
Meet Your Hosts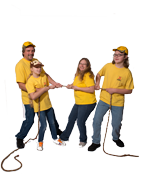 "Have fun participating in our KOA directed activities"
The importance of family time was the deciding factor to enter into the campground business for Brian and Allison, owners of the Lookout Mountain/Chattanooga West KOA in Tennessee. We get to be with our children (Max and Tessa) every day.
Brian, who had been an electrical/mechanical engineer, and his wife Allison, who was an MDS nurse, decided to purchase their campground because they felt they needed to spend more time with their family. "We had been avid campers in the past," says Brian, "and felt that running our own campground would be a good opportunity to work at something we like to do. We understand what campers like and enjoy while camping."
Campers can enjoy going for a cooling dip in the swimming pool or bouncing on our jumping pad. "We treat our customers the way we would like to be treated," says Brian.
When they're not busy working on the campground, Brian can be found landscaping and Allison enjoys reading.