Reserve Now
Or Check Rates
Meet Your Hosts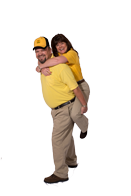 "Come and check in for some history. George Washington slept here, why not you?"
It was 1976, and Susan Hart was just a teenager when her parents purchased the Fredericksburg KOA. Not much longer after that her would-be husband, Ron, just a teenager himself, came to work at the campground. And as their fairy tale goes, they met, they married, and they eventually took ownership of the campground.
Susan grew up most of her life on the campground and saw the potential it had to work as a family business. She never considered trying her hand at different career. "It is a good way to be able to be with the kids," she said. "A campground is a good family atmosphere and was something I saw myself continuing to do."
After they married, Ron and Susan continued to work at the KOA and started another business together running a tour company out of the campground. They ran the tour business for 17 years before selling it to take over ownership at the KOA in 2000. Susan said it was not hard to give up the tour business. Though it was good to them for many years, the traffic had become harder to navigate with a 40-foot bus. And after being incident free for 17 years, the couple felt they had pushed their luck and nerves for as long as they wanted.
"It must've been meant to be," she said. "We were ready, and our parents were ready to retire. That campground was our parent's baby, and we feel fortunate to have been given this blessing." The Harts travel frequently and like to stay at other campgrounds to see how different places are run.
"All campground owners should get on the other side of the fence," she said. "There are certain things that put a new light on it, and you should get on the other side and see what your customers see."
They love the location of their campground and the service they give their customers. Being in a scenic and historical area is a bonus, as well. "To own your own business is a good thing, not easy, but it worked out well for us," she said.