Reserve Now
Or Check Rates
Campground Amenities
Amenities Overview
Campground Amenities
50

Max Amp

50'

Max Length

Wi-Fi

Cable TV

Pool (5/25 - 9/3)

Propane ($)

Mini Golf

Firewood ($)

Pavilion

Bike Rentals
Campground Events
Listing
Calendar
You will just love our campground...
While in recent years we have often scheduled campground activities and events on a regular basis throughout the summer, we have come to discover that we can not compete with the beauty and area attractions surrounding Chautauqua Lake. Some activities will therefore be offered but more on a unplanned basis. If when you check in an activity schedule is provided during your visit we hope you will love the element of surprise. Always check out our bulletin board for up to date time and events, or ask at the front desk.
Read More
Meet Your Hosts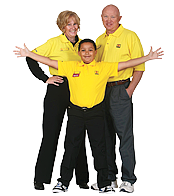 "Your memories are our proudest accomplishment!"
Bill and Anita have owned the Chautauqua Heights campground since the early 90s. Starting from scratch, they have developed the campground to be one of the top 300 campgrounds in the nation. Although we enjoy the outdoors and the lifestyle operating a campground allows, one of our greatest joys is our family," Anita says. "We enjoy watching other families enjoying themselves and creating their own vacation memories that will last a lifetime.
We look forward to meeting you as your travels bring you through our beautiful Chautauqua area. Come relax and enjoy the peaceful surroundings, dont forget to bring your family and friends.