Reserve Now
Or Check Rates
Meet Your Hosts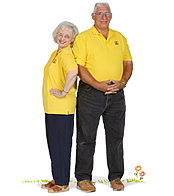 "You will be treated like family every time you visit us."
John and Carol have managed and owned RV parks since 1996 and have always enjoyed the camping lifestyle. With their backgrounds in retail and accounting, they determined that the RV park industry would be a good fit for them.
After taking over this park in 2008, which was in need of a lot of TLC, Jack and Carol were encouraged by the original owner, who built the park in 1969 as a KOA, and other friends who worked at KOA and now own a KOA, to convert this park back to the KOA family. The conversion process has, at times, been overwhelming, but with plenty of help from friends, family and KOA, they have come a long way!
They are constantly working to improve their accommodations and service offerings to keep guests returning for more. John and Carol love meeting and interacting with Campers and think "having fun" is what it is all about! They are both extremely proud of their new home and they promise that you will be treated like family every time you visit. Every year when their guests arrive, they will find a new activity or service.
The McMullen family is committed to making their Campground the very best it can be!