Reserve Now
Or Check Rates
Meet Your Hosts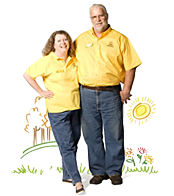 "We want our campers to enjoy their stay, and plan to return."
Bill and Carolyn Miller welcome friends old and "not yet met" to come stay with us for a day or a week. Originally founded as "Rustic Acres" campground, Toledo East / Stony Ridge KOA has matured over the years. A recent expansion provides new Super Sites for 85 ft rigs. Now the KOA is updated and camper-ready. "It's a happy, quiet place," said Bill. Treating customers well is a top priority. We haul wood, fill propane tanks, and give campers tourist related information. "We want our campers to enjoy their stay, and plan to return," added Carolyn.
Local attractions, including the amusement facility, Cedar Point, keep campers busy and having fun. Bill says people come from all around the world to visit the world famous roller coaster park. "I've met people there who were from Great Britain." People also enjoy visiting the nearby zoos, art museums, and conventions in Toledo. "We are located close to both major east-west and north-south interstates, so we get lots of people going out west and snowbirds heading south." said Bill, "Part of our fun is meeting lots of people passing through."
While closed in the winters, the Millers like travel. Bill enjoys amateur astronomy, Carolyn loves murder mysteries and making earrings and necklaces.