Reserve Now
Or Check Rates
Campground Amenities
Amenities Overview
Campground Amenities
50

Max Amp

90'

Max Length

Wi-Fi

Cable TV

Pool (5/27 - 9/4)

Snack Bar ($)

Propane ($)

Kamping Kitchen

Firewood ($)

Pavilion

Bike Rentals ($)
Unique Amenities
Basketball Court
Camp Store
Hunt Brothers Pizza
Laundry $
Pet Playground
Playground
Rec Room
Campground News
Congrats Starr and Lea Anderson on Work Kamper Hall of Fame!
It is with great pleasure that the Springfield/Route 66 KOA inducts another Work Kamper team into its Hall of Fame. Starr and Lea Anderson have worked with the Springfield/Route 66 KOA for over three years including the challenging southwest Missouri winters. They are the first team to be inducted before they leave because they have said this will be their last Work Kamping location. Also, Scott commented that, Starr is 80 years old and who knows! They have truly made the park better and Scott and Diane have thoroughly enjoyed their efforts and are proud to call them friends. Congratulations, Starr and Lea!
Come congratulate the dynamic duo in person the next time you're in Springfield!
Read More
Meet Your Hosts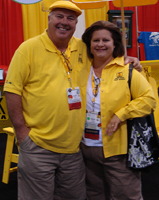 "Experience Genuine Ozark Hospitality with all the amenities and conveniences that pamper today's camper!"
A lifetime of camping - from tents to trailers to RVs - made Springfield KOA owners, Scott and Diane King, fall in love with the campground industry. In 2004, the Kings purchased their campground and left their careers as managers in various fields. "When we camped we met a lot of owners and felt this was a nice way to make a living," Scott said.
They worked with a campground broker to find the best park for their family. Leaving California, being close to a good-sized city, and access to an airport were key factors. And they were confident they wanted to buy a KOA campground. "Everything came together just right, and when we saw this one, we decided this was it," Scott said.
Scott said the best part of their business is the repeat business Springfield KOA gets. "Not to sound sappy, but we have become friends with so many of our guests," he said. "We get to know them and how many kids they have and what they do for a living. We have the time to spend with our guests and we do it."
The Kings challenge their staff to remember customer's names. They also strive to do personal things for their campers like put a rose and poem on their RV handles for the holidays.
Besides running their campground, the Kings have an interest in pursuing real estate, and both have their real estate license. "When we had full time jobs we always wanted to do that but never had the time," Scott said.