Reserve Now
Or Check Rates
Campground Amenities
Amenities Overview
Campground Amenities
50

Max Amp

80'

Max Length

Wi-Fi

Cable TV

Pool (5/1 - 9/30)

Hot Tub / Sauna

Snack Bar ($)

Propane ($)

Mini Golf ($)

Firewood ($)

Pavilion
Unique Amenities
Children & Adult's Playground
Family Reunions
Fitness Center (no charge)
Heated Pool
Hot Tub (Adults Only)
Motorcycle Clubs
Planned Activities
RV Clubs & Rallies
Campground Activities
JOIN US FOR "HOLIDAYS REVISITED" THIS SUMMER Summer ends, we put away the RVs and camping equipment then when spring rolls around we realize we have missed celebrating the winter holidays with our campground family. So, get your RVs and tents ready and join us this summer as we revisit the holidays! See the full list of activities under EVENTS.
View All Activities
Campground Events
Listing
Calendar
HOLIDAYS REVISITED - SUMMER 2015
SUMMER ENDS, WE PUT AWAY THE RVS AND CAMPING EQUIPMENT THEN WHEN SPRING ROLLS AROUND WE REALIZE WE HAVE MISSED CELEBRATING THE WINTER HOLIDAYS WITH OUR CAMPGROUND FAMILY.  SO, GET YOUR RVS READY, YOUR TENTS OUT OR MAKE A RESERVATION FOR A CABIN AND JOIN US THIS SUMMER AS WE REVISIT THE HOLIDAYS.
Read More
Meet Your Hosts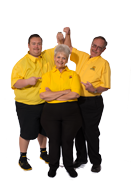 "You're a camper here only once--then you're family!"
Owning a campground for the Johnson family was a dream come true. They had a chance to try campground management before purchasing Pueblo South/Colorado City KOA in March of 1996. "We were avid weekend campers and became good friends with the owners where we camped. We helped them with various activities at their campground and decided that this was fun, and we had to have a campground of our own."
Both Tim and Elena come from lodging backgrounds. Tim's family owned a motel/restaurant in Colorado Springs, Colorado while Elena's grandparents owned the first motel/campground in Trinidad, Colorado back in the 1930's. Her parents also owned two motels in Trinidad.
Before becoming campground owners, Tim worked in landscape design and was a substitute teacher in the Pueblo School Districts. Elena was an administrative assistant/ticket manager for Colorado State University-Pueblo Athletics and later worked for CSU and the State Department of Local Affairs. She also was a substitute teacher in Pueblo.
Their boys, Todd and Jeff, both attended Colorado State University-Pueblo, majoring in Marketing and Business Administration. Todd has become a full-time partner in the daily operation of the campground in the summer and works at the Pueblo Community College Testing Center during the winter months. Jeff recently married the campground's Activities Director, Crystal Sebastian. He is now hardline/floor manager for Pueblo Sports Authority, and Crystal is teaching in the Art Department at Central High School.
"Our campground is definitely a family operation, with a little help from our friends. Our goal is to provide a fun, pleasant and relaxing experience for everyone who stops here. We want our guests to feel like family - not just another camper."
"Although there isn't much free time for us, we do still try to get away once in awhile." When that happens, you will find the Johnson's out on Todd's fishing boat chasing after the rainbow trout and mackinaw. When they can't get away, the guys take a time out on the golf course.