Reserve Now
Or Check Rates
Meet Your Hosts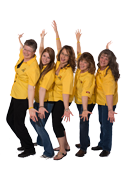 "We've always been known for our friendly staff! We have a lot great guests who return every year. We want you to feel that we care."
KOA has been a part of the Frame family since 1967. Laurie Frame-Wisby now serves as the general manager in the campground built by her parents, Marge, and the late Elmer Frame. "Because it's a family business, it's special to carry that on," Laurie says.
Laurie recalls growing up on the grounds with her two sisters. "I've only had one other job in my lifetime, for four years, and the rest of the time I've worked at the KOA," says Laurie.
Her parents started with 39 spaces, and continued to expand to accommodate the increasing size of motor homes, while adding more services. It now offers 219 sites with several remodeled into "super sites". The family takes pride in maintaining the facilities and upgrading the sites at their KOA. "We have a lot of landscaping and flowers," Laurie noted, "our campers comment on them all the time."
Nestled in the lovely Missoula Valley, where you'll find spectacular views of the Rocky Mountains, is a campground loaded with fun family activities.
The family has always treated campers as they would like to be treated, offering a listening ear when they arrive. "We've always been known for our friendly staff," Laurie added, "we have a lot of employees and guests who return every year.
The upgrades, great accommodations and the great customer service have honored the campground with the KOA President's Award since 2003.