Reserve Now
Or Check Rates
Campground Amenities
Amenities Overview
Campground Amenities
50

Max Amp

100'

Max Length

Wi-Fi

Cable TV

Pool (4/1 - 11/1)

Hot Tub / Sauna

Propane ($)

Firewood ($)

Pavilion
Unique Amenities
Basketball for the kids
Book Exchange
Clubhouse with Satellite TV
Curbside trash pickup
Horseshoe pit
Tetherball area
Volleyball
Campground Activities
Stay with us and have a blast in our park. There are special events galore around our area. Relax around the fire pit and have a wiener roast and s'mores with the family. Volleyball, tetherball and basketball are always fun activities in the park. Children enjoy the large sand box and playground area. Join us in the clubhouse or pavilion for Bingo, Dominoes or just relax, read a book, or watch TV in the clubhouse. The holidays provide us with many outstanding, family-friendly events to choose from. You won't be disappointed.
View All Activities
Campground Events
Listing
Calendar
Haunted Halloween KOA Style
Come Join Us ! Always something unexpected and fun happening here on the eve of Halloween. Why wonder the neighborhoods when you know your kids will always be safe @ KOA
Read More
Memorial Day Weekend
May 27, 2016 - May 24, 2019 , Once A Year
How important it is for us to recognize and celebrate our heroes and she-roes!
We plan on doing:

Family Friendly Movies

Balloon Stomp

Homemade Ice Cream Social

Karaoke Night

Water gun fight / Bring your Water Shooters

Watermelon Hunger Contest

Family Fun crafts and activities

Hot Dogs and Watermelon 

Read More
Campground News
Park Roads
We apologize for the interior entrance road. We repaired the interior roads inside our park last year and the contractor did not do a good job. Now, with weather permitting we will have our interior roads repaired again. So please bear with us-it is definitely on our list.
We appreciate your patience.
KOA
Read More
Hero Way East Improvement
We apologize for the inconvenient, some street Improvement are taking action in Hero Way east. If you coming from HI 35 or Ronald Regan Blvd please take 2243 and take 269 left to Hero Way. We appreciate your patience.
Read More
Meet Your Hosts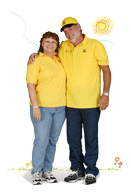 "Austin-area camping doesn't get any better than this!"
Welcome! We are glad to have you as our guest. We are truly thankful that you have chosen Leander NW Austin KOA to be you camping place. On behalf of the entire team at the KOA name, I extend you a very warm welcome and trust your stay with us will be both enjoyable and comfortable. We make sure that you get only the best and most reliable service available. 
With best regards / yours sincerely,
 
Merry and Ronnie