Reserve Now
Or Check Rates
Campground Amenities
Amenities Overview
Campground Amenities
50

Max Amp

100'

Max Length

Wi-Fi

Cable TV

Pool (4/1 - 11/1)

Hot Tub / Sauna

Propane ($)

Firewood ($)

Pavilion
Unique Amenities
Basketball for the kids
Book Exchange
Clubhouse with Satellite TV
Curbside trash pickup
Dog Walk
Horseshoe pit
Tetherball area
Volleyball
Campground Activities
We always have lot's of fun in the Clubhouse sharing stories and visiting with family and friends. Stop by and play games, watch Direct TV or just read a book.
View All Activities
Campground Events
Listing
Calendar
Cedar Park PRO Rodeo
Jun 20 - 22, 2014, 7:30pm
Pro Rodeo is back at the Cedar Park Center...Friday, June 20, 7:30 p.m., Saturday, June 21, 7:30 p.m. and Sunday 6/22 at 4:00 p.m. PBR...tickets on sale now at www.cedarparkcenter.com. This event is only 5 minutes from our KOA...make your cabin or RV reservations early for this popular event.
Read More
Campground News
Join our Mailing List for more Deals and Specials
[code]Join our mailing listyou can trust [url=http://www.constantcontact.com/jmml/email-newsletter.jsp]Email Newsletters[/url] For[/code]
Read More
Meet Your Hosts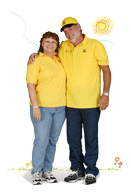 "Austin-area camping doesn't get any better than this!"
You have many choices for camping and your business is greatly appreciated. Thank you!