Reserve Now
Or Check Rates
Meet Your Hosts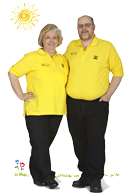 "We live on site to ensure that your stay will be one of the best of your trip."
Teri and Tony Callahan moved from Denver, Colorado to the small town of Kennebec South Dakota for a change of life style and a new adventure. Teri's previous career in food service and Tony's in customer service has positioned them well for making certain that their guests are comfortable and that they will enjoy their stay.
In the off season Teri and Tony enjoy visiting their family, which is scattered from the East Coast to the Rocky Mountains. "The fact that we have family all over the place gives us the perfect excuse to travel", says Tony. When they are not visiting family, Teri enjoys reading and Tony spends his time cooking and working on his photography.
Whether you are planning an extended stay or just an overnight visit, you are sure to receive a warm welcome at the Kennebec KOA.